I feared the big crowds at Lollapalooza, had no interest or desire to be stuck in the middle of tens of thousands of drunk and sweaty people. I got over that fear and decided to make the most of it, all culminating in Foo Fighters closing set on Sunday night. After a torrential downpour caused Lollapalooza to come to a halt in the early evening (at least it did on the south end of the park, delaying the Arctic Monkeys set), there was some question about whether or not the Foo Fighters would even have time to play.
As a veteran of Woodstock '94, I've encountered muddy festivals and after the rain had ended (not permanently), the field in front of the Music Unlimited stage was nothing but a muddy, soupy mess. This actually allowed me to get much closer than I probably could have had it not rained. I met a couple who had come from Colombia and a guy who had come from Singapore (!!!!) just to attend Lollapalooza. All 3 were having the times of their lives and were excited for their first Foo Fighters show ever.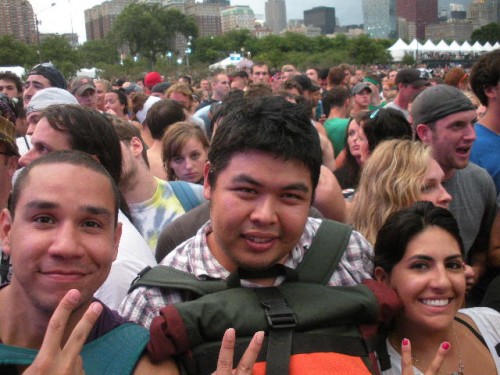 The Foo Fighters played a "secret" show (not very secret though … Lollapalooza's Facebook page announced the show which sold out in a minute) at the Metro the night before their Lollapalooza appearance and, by all accounts from those who attended, it was unforgettable. Grohl supposedly told the audience that THAT show was the band's REAL Lollapalooza performance but Sunday night, Grohl and company did more than just run through the motions.
It's been 10 or so years since I've really listened to a new Foo Fighters release but 2011's Wasting Light is a fine return to form – one of this year's best rock records – and I was hoping Grohl would dip heavily into it for the setlist (he did – a quarter of the Foos 20 song set came from their new record). The rain started up again hard and heavy just before the band launched into the first huge sing-a-long of the night, "Hero", but it did little to deter the band or the crowd. I can't remember how long the rain lasted – maybe 5 songs (?) – but the Foo Fighters never stopped performing.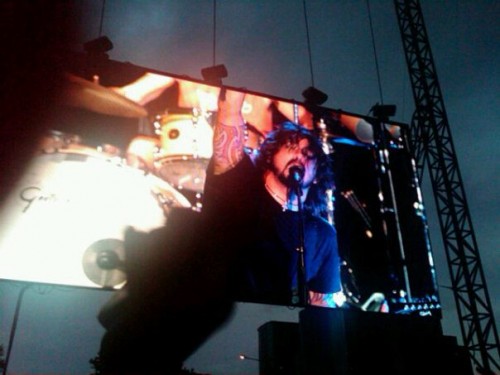 With a 10pm hard stop looming, before ending with "Everlong", Grohl thanked Chicago for igniting his passion to become a performer (he saw his first concert – Naked Raygun at the Cubby Bear Lounger – when he was 13) and thanks Perry Farrell (who brought out on stage) for his Lollapalooza vision 20 years ago ("Kurt and I went to the first Lollapalooza in Los Angeles. We looked around and said, '20,000 people are here to see bands like Siouxie and the Banshees and Jane's Addiction. This is going to change music.'")
An amazing performance that restored my faith in the Foo Fighters.
I started off the day in Perry's Tent watching the trio from Chicago's Midnight Conspiracy stand behind laptops and manipulate sounds. It was pretty amazing watching a primarily younger audience become totally engrossed in the moment. There was a couple in the middle of it all making out as if the world was going to end in minutes and based on the way they were bumping and grinding on each other, I wouldn't be too surprised if they become parents in 9 months!
Up next was the London trio, The Joy Formidable. If there is a "breakout" band from this year's Lollapalooza, I'd put my money on this band. They played a few shows around town before their actual appearance on the Bud Light stage including opening the secret Foo Fighters show at the Metro the night before (they'll be touring with the Foos later this fall, Grohl handpicked them for the gig). This was my second time seeing them – the first was at The Basement (capacity ~200) in Columbus – and while there was more intimacy at the smaller gig, the trio easily commands a huge stage such as the one they performed on at Lollapalooza. If there was a disappointment, it's that they played such a short set (somewhere in the neighborhood of 5 or 6 songs). Not really sure why they played 30 minutes instead of 45 (as scheduled) but the explosive sound rang through the air even after the band had walked off stage.
Rival Schools set, which followed The Joy Formidable's on the close-by Playstation stage, wasn't all I hoped it would be but that's because I had big expectations. Rival Schools founder/singer/guitarist Walter Schreifels used to front one of my favorite bands of the '90s, Quicksand, but ever since that post-hardcore band brokeup, he's lost most of his aggression and intensity. There were a few brief moments where Rival Schools sounded like Quicksand "lite", but for the most part I was wishing for something that I knew wasn't really going to be there.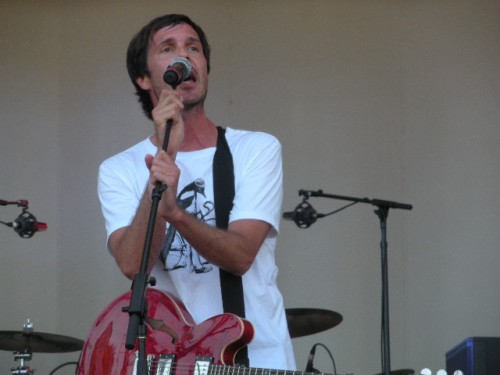 It was a thrill seeing the reunited Cars play a later afternoon slot though I'm surprised that they played so much material from their new release, Move Like This. I understand they've got a new (and great) record to promote – and the material does sound like vintage Cars stuff – but with the catalog of hits that they've produced over the years, and with an audience that wasn't necessarily there to just see them, it would have made sense to run through their greatest hits. But, as least they played "Just What I Needed", which got the biggest response from the crowd. With the guys all in their 60s, there wasn't a whole lot of moving around on stage (when Ric Ocasek did stray from his microphone at one point, a person near me jokingly yelled, "NO! Don't move! Stay stationary!").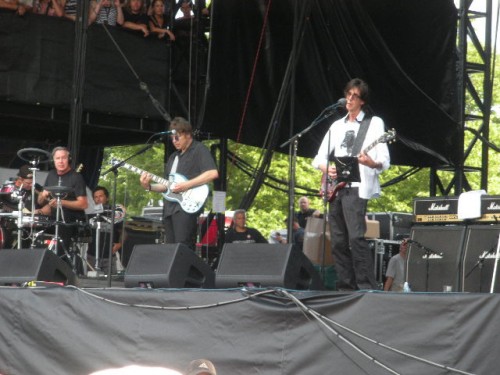 I had planned on checking out Portugal the Man, Damian Marley and Nas, and Explosions in the Sky but when the rain started, I retreated to the media tent to seek shelter. Once the Arctic Monkeys started playing, I reentered the game only to find that the rain had done quite a number on the field.
The Arctic Monkeys managed to get through 13 songs – probably close to what they had intended on playing – including "She's Thunderstorms" which, when announced, received a huge ovation from those covered head-to-toe in mud. Though already a pretty well-established UK band, the fact that The Arctic Monkeys performed right before the Foo Fighters certainly didn't hurt and exposed the band to a lot of new fans.
All in all, Lollapalooza exceeded my expectations. While I love the hustle-and-bustle of SXSW, there's something to be said about a more laidback festival vibe. With the exception of Delta Spirit's Friday performance, I'm not sure that I experienced any surprise discoveries or moments but it's definitely a festival I'd like to return to in years to come.