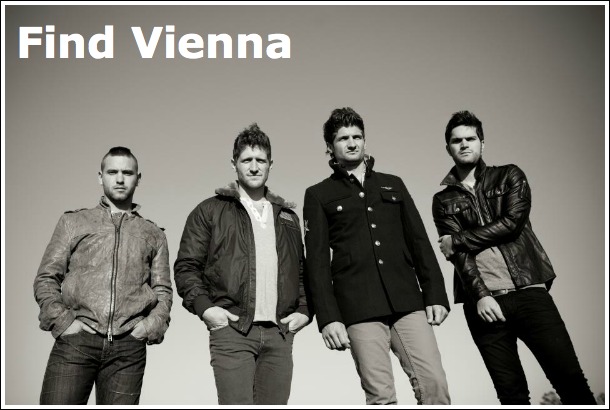 Find Vienna performs on the Landor stage at 12:45pm on Friday, July 13
Find Vienna is a Philadelphia-based four piece taking cues from artists like U2, The Police, Jeff Buckley and Mute Math.
What does "bunbury" mean? (No cheating; give it your best guess)
I'm sure people will call bullshit on this, but being a college boy and the son of a literary obsessive, I'm going to go ahead and pull "Bunbury" from The importance of being Earnest. Okay, to be honest my mom had referenced that right when we got the gig.
What are 3 things that you know about Cincinnati?
Home of the Reds, the Bengals, and the bitch ex-wife of someone dear to us.
Write a Twitter-style (140 character) description of your band
If U2 and The Police conceived a lovechild while Bono was thinking about The Beatles and Sting was wearing a Mutemath t-shirt = Find Vienna
There's a lot of great bands performing at Bunbury, give a sales pitch about why people should come watch your band during the time slot you're playing?
Because we are very handsome.. Not. I am certain that most people at the festival won't know about FindVienna and anyone who comes our way will be pleasantly surprised. We have been told we have great songs and a fresh sound, so we are worth the half hour of your day. We promise!
What do you think of the fact that Jane's Addiction is headlining one of the nights of this festival but is not appearing at Lollapalooza this year?
Seeing how Perry Farrell is one of the heads of Lollapalooza, I'd have to say that says a lot about Bunbury in an extremely positive light.
What band is missing from this lineup that you'd love to share a bill with?
It's hard to want more out of a festival that is stacked with so many brilliant acts. If I had to pick I'd say either the Killers or Coldplay. But either way it'll be an honor to play alongside all of these other bands and to see them.
Will you have the opportunity to check out any other bands and, if so, who are you looking forward to seeing?
We will be enjoying the festival just like any other concert goer. I know that Jane's Addiction, A Silent Film, The Gaslight Anthem, Neon Trees, Death Cab for Cutie, Graffiti6, Ra Ra Riot, and Imagine Dragons are on our wish list, but thats only naming a few.