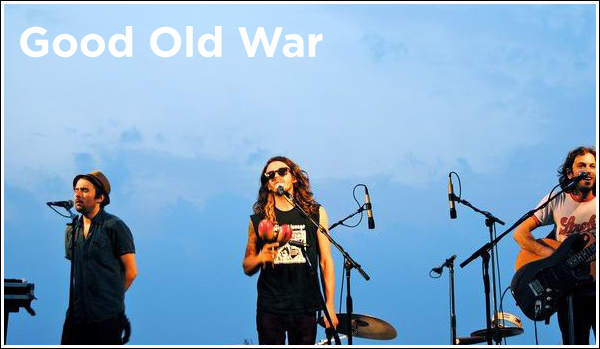 Good Old War performs on the Landor stage at 6:00pm on Sunday, July 15
Good Old War is an indie-folk trio from Philadelphia that has been touring this summer with The Counting Crows.
What does "bunbury" mean? (No cheating; give it your best guess)
Ok, Bunbury definitely refers to back in the day when people would cook bread and raise yeast by burying their buns underground in an old timey stove. Like the ones they used to use in the ground with hot coals or stones.
What are 3 things that you know about Cincinnati?
I know very little about Cincinnati to be honest. I've been there many times but never really got to know the real Cinci. We are like lovers who meet everytime I'm around and I don't even know her name. But there's something powerful that we both feel and feel it everytime in this wild whirlwind of a city.
Write a Twitter-style (140 character) description of your band
#acoustic #songwriting #harmony #sunnydisposition #pallingaround #singalongsongs
There's a lot of great bands performing at Bunbury, give a sales pitch about why people should come watch your band during the time slot you're playing?
Feeling sunburnt, hungover and exhausted after an entire weekend of music and partying? Well go on down to see Good Old War at 6pm on Sunday for a little pick me up. Let their melodies be the salve for your scorched skin. Let their harmony be the tall drink of water your dried out body needs. Let their good time easy vibe be the relaxing spa treatment your festival wracked psyche yearns for.
What do you think of the fact that Jane's Addiction is headlining one of the nights of this festival but is not appearing at Lollapalooza this year?
I think Janes Addiction can do whatever they want, but maybe it means they think Bunbury is the new Lolla?
What band is missing from this lineup that you'd love to share a bill with?
I'm really missing Unknown Mortal Orchestra. That band really gets me going.
Will you have the opportunity to check out any other bands and, if so, who are you looking forward to seeing?
I'm definitely gonna check out Maps and Atlases, size up those chumps.