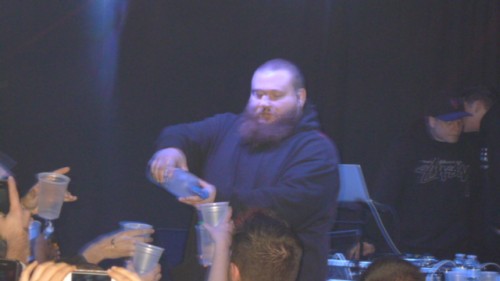 Action Bronson played Skully's in Columbus, Ohio last Friday.  If I was in NYC today I would most certainly peep him out at Complex Magazine's  "Judgment Night" CMJ Showcase tonight.
Ok. let me give my little recap:  Earlier that day I went to a wedding also worked and it was my mom's bday. So I got to the venue around midnight wanting to actually to enjoy myself for change. When I was standing out front Action Bronson and the promoter Schoolboy walked by. Bronson had his hood up and was wearing all black. He looked like a pro-boxer or someshit.
After getting in the venue, I hit up the bar. After I got my drink,  I saw Bronson already on stage pouring out Goose or Ciroc. Whatever the case;  he was breaking the crowd off with some decent Vodka. It was not well rubbing alcohol bullshit.   You can see him pouring up top. My picture is blurry. I am not a good photographer and Action Bronson is quick bastard so for someone like me to try to keep hold is NOT happening.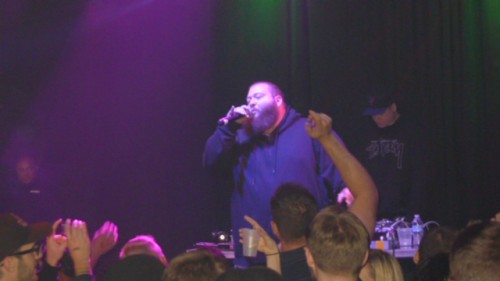 After giving his fans a drink like a true gent, Bronson jumped into joints off his ill mixtape Blue Chips. He rapped cleanly and loudly. It sounded perfect. Let me tell you, I have this bias where I think New Yorkers have really good styles but usually phone it in live compared to Midwest emcee's like the Rhymesayers cats.
I have often wondered if rigid New York patterns are just not something that can be done with energy.
Bronson proved this bias incorrect. To me the whole appeal of New York traditional rap is it's structure. Bronson was on time and as clean as an Ces piece, baby.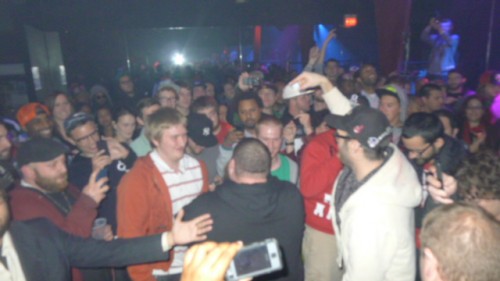 But what was amazing is the 320 pound mutha fucker jumped into the crowd and spit his shit perfectly while running around. He was truely on some Larry Zonka/Franco Harris shit splitting the crowd with precision and power.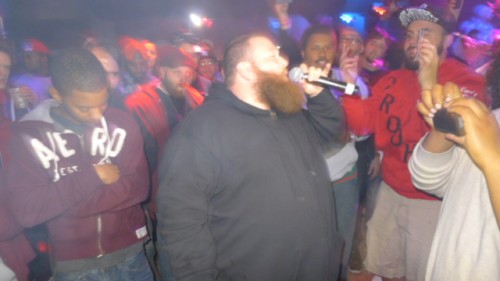 People were fucking stoked. Their favorite rapper gave them a drink and here he was rapping right in their faces sounding better than his record for crissakes.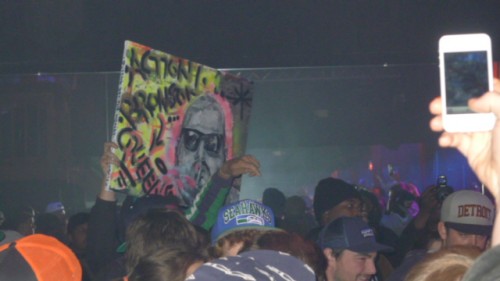 Someone painted a picture of  Bronson and was waving it around.
After bringing the room to a frenzy I guess Bronson decided that he deserved a drink. So he hit up the bar but didn't miss a breath or a beat.
Don't take my word for it. Watch the video. It's wobbly for the first 3 seconds but thats cause Action Bronson is a agile bastard that's hard to keep an eye on.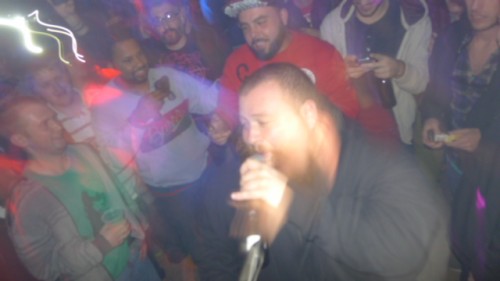 Since Odd Future and everyone are bringing punk energy to Hip Hop I would compare Bronson to the dude from Fucked Up. But this had less frills than a Fucked Up show. Not that Fucked Up is fancy or anything. This was more like watching a garage punk band. It was super energetic and straight forward. On some Vice Record shit; It was like being at a Black Lips show.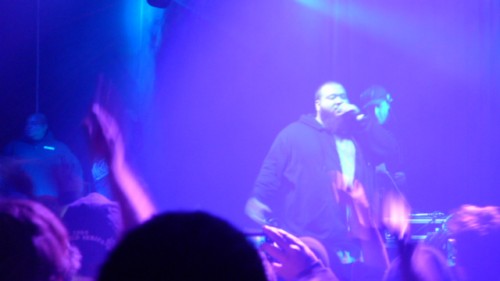 Bronson took back to the stage. He was sweating but he was not short of breath.   It reminded me of that thing Chuck Klosterman said about Eminem's success had alot to do with with his diction and clarity.  Bronson words were as clear as a Scientologist's brain. If you think about how clear Young Jeezy and Rick Ross rap vs. other southern rappers that sell less than them perhaps there is something to Klosterman's theory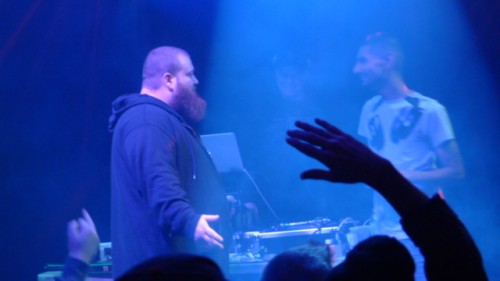 So dude got on stage and tried to dance next to Bronson. Bronson took him by the front of his shirt and told him to beat it.  As is if to say, "this is my show you fucking prick".  It was funny.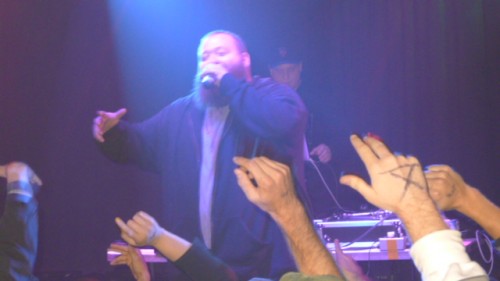 A smoke machine went off in Bronson face. He said something about he only likes clouds of weed smoke or something. But the smoke machine still didn't fuck up his breath control.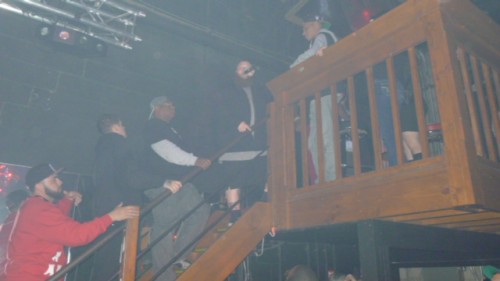 Bronson marched out at end of his set rapping from the Skully's balcony.
All in All, After seeing him live I fuck with Action Bronson.
A few people I knew that were casual fans or just thought he was some fat dude now bump his shit.  Girls and Hipsters even.