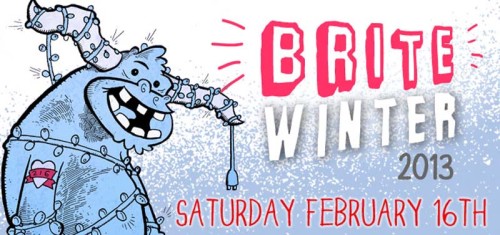 I love the audacity of Cleveland's Brite Winter festival, the brainchild of Jimmy Harris and Emily Hornack (formerly of Case Western Reserve). On Saturday, Feb. 16, in the dead of winter, Bad Racket Recording's Thomas Fox has booked 48 bands to play outside on six stages. And it's all free. Here's how they explain it:
There might be snow, there might be rain, it might be cold, it might be a blizzard, but it doesn't really matter. This is Cleveland, and we're going to play outside. Going on our fourth year, we've had more support than ever before, as our region has decided that waiting for summer to have fun is not an acceptable way to live. Sure, we'll have to work a little bit harder for to get what we want… that's just like us too.
Check out the lineup below, which includes Columbus bands like The Floorwalkers, Maza Blaska, Saintseneca, Tin Armor and others. Full schedule here.

W 26th & Bridge: Floorwalkers, Lost Jon & The Ghosts, Misty Gonzales, Thaddeus Anna Greene, Lucy Stone
Campbell's Sweets Factory: Total Babes, Annabel, Dowsing, Reverse The Curse, Dead Sweaters, Muscle & Bone, Cherry Cola Champions, Beach Stav
Loren Naji Gallery: Maza Blaska, Bethesda, Teen, Army of Infants, Wolf Ram Heart, Bonesetters, Suns, Seafair, Bears of Blue River, Dozens, Alert New London, Regular Shoulders,
Market Ave. Wine Bar: Matt Hectorne & The Family Tree, Saintseneca, Ashley Brooke Toussant, Jerimiah Webb, Sam Brenner, Istvan Medgysi, Hugo, Melissa Olson

Joy Machines Bike Shop: Restorations, Tin Armor, Dowsing, World's Scariest Police Chases, Worship This!, My Mouth Is The Speaker, Signals Midwest, En Garde, Perfect Future, Tracy Morgan Freeman
The Cleveland Hostel: Meridian, Tom Evanchuck, Honeybucket, Old Boy, Unraveler, ShiSho