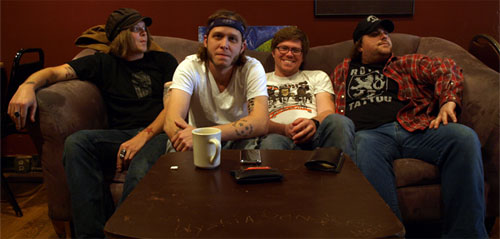 No use in reinventing the wheel. Two Cow Garage has gotten as much love on Donewaiting as just about any band short of Miranda Sound or Ted Leo so I'm not going to waste my time with a historical background or even a song-by-song analysis of the new record, Speaking in Cursive, the band's first for what has quickly become one of my favorite labels, Suburban Home. What I will say – in way of an intro – is that just as with previous Two Cow CDs, it took me a few listens to really get into the songs, probably (no, not probably, DEFINITELY) because I have yet to hear these songs played live.  But after a few spins, the CD has really, really grown on me.
The Two Cow live experience – all the blood, sweat and tears – is as fine better than 99.9% of the other bands out there trying to make it by relentless touring. Even despite some potential line-up setbacks (read Deville's cover story in the Alive), Two Cow soldiers on without letting it effect what they give back to the audience, regardless of size, hundreds of nights a year.
MP3: Brass Ring
MP3: Your Humble Narrator
Having just wrapped up a few weeks of tour dates, Two Cow Garage returns home for Saturday night's Skully's 7th Anniversary blowout where they'll hit the stage at 9:20 (this show also serves as an official CD release party for Speaking in Cursive). Somewhere between Austin, Texas and Columbus, the fellas (Micah Schnabel, Shane Sweeney, Chris Flint, Andy Schell, and Cody Smith) answered questions I sent them via email about life on the road.