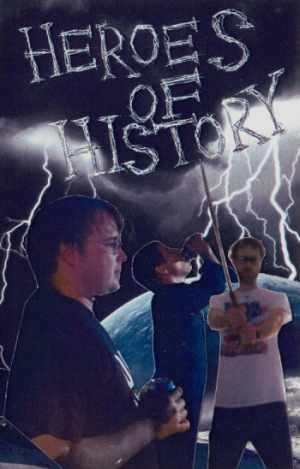 MP3: A Quarter Werewolf
MP3: Two Heads
Saturday's Heroes of History show at Ruby Tuesday will be their last for the foreseeable future. Drummer Kyle Forstrom is moving to Tacoma, WA for a new job, putting the band on infinite hiatus. Before that happens, however, the band has planned a send-off show with friends The Exceptionals and MOVEHOME. The show starts around 10 (post-Crew game).
The Heroes' sci-fi garage metal has filled a special place in my heart for much of the last eight years. Though the hiatus quickly approaches, I am comforted by the band's plans to release multiple albums of recently (and not-so-recently) recorded material. Number one on that list is Thunder and Lightning, recorded by Mike "Rep" Hummel at a late night Used Kids session. The album (which includes the two MP3s above) is 14 fast and loud songs, both old classics and new tunes. Their usual topics (zombies, werewolves, death, etc.) are front and center, and Hummel has given the tracks the right dirty crunch. Though you will be able to buy a Thunder and Lightning CDR at the show, look forward to seeing a wider release of this and other Heroes albums in the (hopefully) near future.