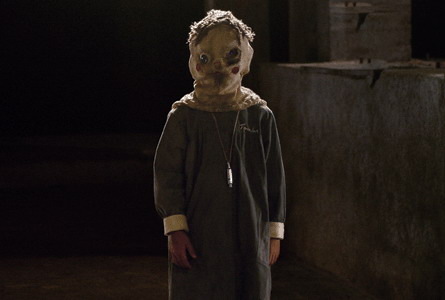 You know someone in the film business has really made it big when his credit as a producer alone is enough to sell a movie. That's the case with The Orphanage, which comes, as the movie poster boasts "from producer Guillermo del Toro."
Del Toro's only one of the seven producers credited for working on the film, which is actually written by Sergio G. Sánchez and directed by Juan Antonio Bayona, but emphasizing his involvement isn't simply empty marketing. The look and feel of The Orphanage, or the spookier sounding El Orfanato in the original Spanish, does feel heavily informed by del Toro's work, particularly his little-seen 2001 film The Devil's Backbone/El Espinazo del Diablo, which similarly dealt with Spanish speaking orphans and the supernatural.
Laura (Belén Rueda) was an orphan who grew up in a spooky old beachside orphanage. As a (rather shapely) adult and young mother, she and her doctor husband (Fernando Cayo) return to the now abandoned orphanage. They're planning to reopen it as a school for sick children, like their adopted son Simón (Roger Príncep), who is HIV positive.
A lonely and imaginative boy, he increasingly talks about his imaginary friends, evidence of whom Laura discovers. When Simón disappears from the house, Laura and Carlos freak out, as their son needs daily medicine to stay alive, and it falls on Laura to unravel the mysteries of the haunted orphanage to save her son.
Antonio creates several indelible images, including a child in a dirty school uniform with a scarecrow sack over its head—a fresh version of the creepy child archetype that's been stuck in a post-Ring J-Horror iteration the past few years—and a killer scene in which a tag-like game is used to summon spirits.
But while moments like these—and a pretty gross one involving CPR on an accident victim missing her lower jaw—make for a fine horror movie, The Orphanage transcends the genre ghetto by succeeding as a story as much as a scare-factory.
Sánchez and Bayona have constructed their film as a fairly complicated narrative, a remarkably unified whole in which little to no information is wasted, and many scenes reflect back on previous and later ones, changing the way you perceive them at later points. That is, it's not just a good horror movie, but a good movie period, an accomplishment that is as welcome as it is fairly rare.