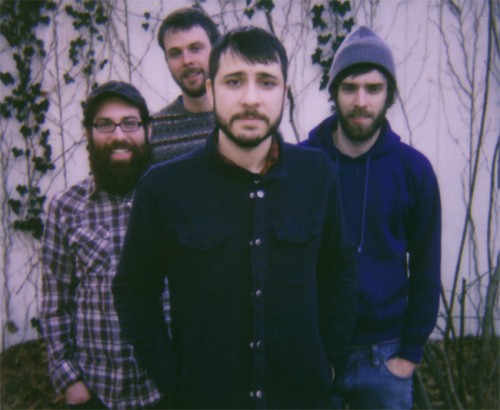 mp3: Titles – Fully Dressed In Bed
Last summer I happened to catch a really weird show at Bernie's. I can't remember why I ventured out, but there was a really bad emo band called E for Explosion, which cut its set short because the PA was making a noise even worse than the band's music, and then locals TV Eye and Winter Makes Sailors. And for some reason, a band from Connecticut called Titles got stuck with the opening slot that night.
Titles' indie pop, led by singer Brad Amorosino's singed-around-the-edges vocals, impressed me enough that I checked out their last record, 2008's Up with the Sun (Safety Meeting Records, New Haven, CT). And that album impressed me enough that I've often wondered what Titles has been up to since. So I asked. Here's what Mr. Amorosino said:
We've been recording our 3rd LP off and on for over a year. All the tracking was done at home, or wherever else we could set up (our practice space, [guitarist Matt Wilson's] dad's furniture store, etc.) We tracked maybe 17 songs, and it looks like 11 or 12 will end up on the record, which is called Dirt Bell. The name of the record comes from a book I'm finishing up. It's a fairy tale called Demon and the Dirt Bell, in which two characters wander a strange planet in search of a mystical bell that, when struck, rings endlessly and turns evil creatures to dust. The record and the book have little in common, except maybe the mood and the artwork.

The record is being mixed by Greg Giorgio [engineered the National's Boxer] atTarquin Studios in Bridgeport CT and has a late November release date. Safety Meeting Records is putting it out on vinyl. …Overall the record is less sunny than the last. The instrumentation is more layered and the sound is more trashy. The production on Up with the Sun was very clean because the whole thing was tracked at Tarquin. Dirt Bell was tracked at home so it has more grime on it. The tone of the whole thing is maybe more somber or aimless. …Our guitar/steel player Matt moved to Knoxville a few months back, but he tracked everything before he left.
Tentative track list and a couple of random in-the-studio shots after the jump.
SIDE A
Born in the Sky
Pillowcase
Night Owls
When You Were Young
What Would it Take
Lug Me
SIDE B
Who to Hold
Gold Ear
Bottom of the Lake
Away We Go
White Ghost
Fuck It