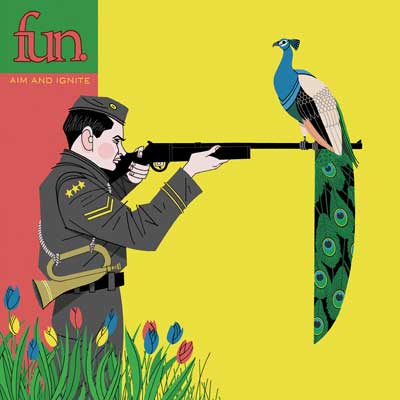 Nate Ruess used to write ridiculously catchy pop songs with The Format, culminating with Dog Problems in 2006. When the Format folded in '08, Ruess immediately recruited ex-Anathallo multi-instrumentalist Andrew Dost and Steel Train's Jack Antonoff for this new band, the appropriately titled and annoyingly punctuated fun.
fun. released its debut, Aim and Ignite, in August, and it sounds like Freddie Mercury and Paul McCartney getting drunk at a carnival, then catching a Broadway show. There's copious strings and accordions and Wurlitzers galore, all gallivanting next to Ruess' impressive, addictive tenor. So fun. is exactly that. In fact, Aim and Ignite is the most fun album of straight-up pop music I've heard this year. It may be too candy-coated for some, but it's the type of dessert I crave from time to time.
fun. came to town in April touring with Jack's Mannequin, and now the band is touring with Taking Back Sunday and Anberlin (this Friday, 10/23, at the LC)—all of which makes me sad, because it only further entrenches Nate Ruess with sad-sack emo/screamo bands, an association I've never quite understood. He's infinitely more talented than those dudes. You can stream much of Aim and Ignite at the band's Myspace to see if you agree and/or purchase from all the typical digital retailers.