Editor's note: "Overlooked in Ohio" is a feature in which we ask an Ohio-based artist/music enthusiast to tell us about a band or bands from the state of Ohio (past or present) that deserve some love. Our fourth installment comes courtesy of Ron House, a guy you likely already know from Great Plains, Thomas Jefferson Slave Apartments and/or his most recent band, Sandwich (currently recording). Or from his days at Used Kids. Read on for his reflections on Kevyn and the Kasualties.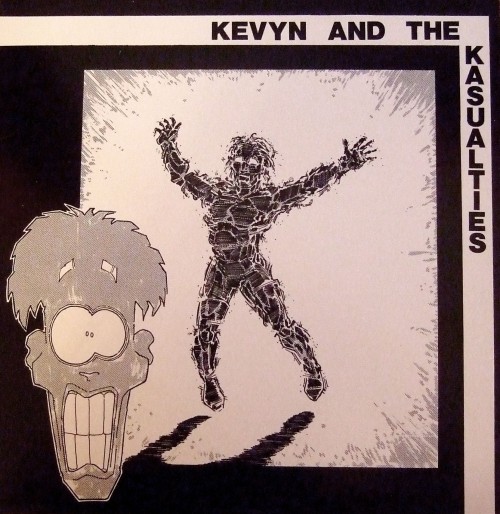 MP3: Kevyn and the Kasualties – Holy Trinity
Kevyn and the Kasualties' first LP is ambivalent even before you put it on: one side is labeled "Punk?" and the other is "Pop?" Pathology on vinyl is always better with a crack rhythm section and Kevyn had Nudge Squidfish and Rudy Krash n Burn (not real names heh heh). They went on to form V3 after this release which shows that at least Jim Shepard was listening to this confused, heartrending, and ass-kicking LP. Like more than a few post-punkers in the mid-eighties, Kevyn was torn between Hardcore's demand for manly toughness and Alternative's feeble plea for originality. Four songs on the punk side are disquisitions on his aesthetics; as he sings in-the-pocket punk in his nasally midwest Johnny Thunders style all he can sing about is punk. Injustice for Kevyn struck home only where his music was. "Let's Kill R-N-R." "Screw FM." For a man determined to be "Drunk Loud and Obnoxious" there is something almost polite and modest in his ambitions.
He opens up more on the "Pop?" side where Nudge especially helps him forge a powerful pop punk mini opera. (Gary Reeve produced it and avoids the common reverby pitfalls of the era.) All the songs focus on love and feature crackerjack arrangements that are minimally but tastefully abetted by organ and wah-wah. On the "Holy Trinity" he might overextend and leave us Protestants glad we got we rid of that shit but even that song has an assurance lacking in Kevyn's next, less overlooked album on Okra.
He wouldn't have been one of my candidates to join Columbus' crowded Tragic Pantheon, but dying in his thirties falling down stairs after battling alcoholism gets you there.