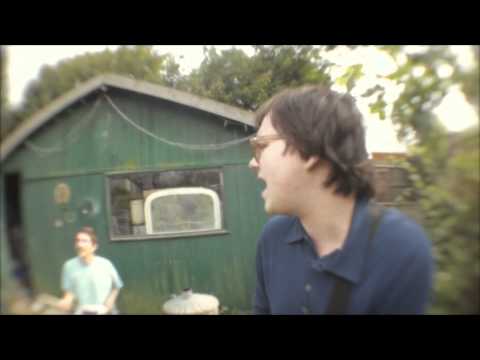 MP3: Let's Wrestle – Dear John
While the indie/DIY scene continues to over saturate itself day after day with "really cool bands", I can't help but feel that most of these bands are missing the point. These days you can be hard pressed to find artists putting more effort into the quality of their music than their general aesthetic.
Thankfully, gems like London-based Let's Wrestle (vocalist/guitarist Wesley Patrick Gonzalez, bassist Sam Pillay and drummer Darkus Bishop) shine through all the flimflammery and leave you with charming, unpretentious rock.
Upping the ante since their first full-length in 2009, In the Court of the Wrestling Let's, the trio recorded their sophomore album with Steve Albini at Electrical Audio. Nursing Home was released last month on Merge.
I caught up with Wes last week to find out more about the band and their experience with Albini.
Wikipedia tells me (and genuine sources confirm) critics have compared you to The Fall and early Wedding Present. While I'm sure it's partially because they must be influences of yours, how do you feel about comparisons like this when you read about bands?
I think these are reviews of early singles or something before the 1st album. People haven't really said this much recently. I will analyze each reference way too much. For instance, with those two Mark Smith can't sing. I think I can. the guitar sounds on early Fall records are really cool but I don't think my guitar playing is like that and they also may be talking about the last Fall album which would be horrible. As for being compared to The Wedding Present, I don't like them I think they are lacking songs. I don't give a shit about how we sound. I mainly want people to acknowledge that it is pop music.

What does Let's Wrestle sound like to Let's Wrestle?
If you mean the records, I can never figure out what I think of them. I always think there is a lot wrong with them. I was worried that the new album wasn't at all catchy for a long time. I would also keep on playing people certain songs going "look doesn't it sound like Cheap Trick", which it doesn't. As for what I think my band sounds like, not concerning records, as in my head as a general thing, I always think of the records I am listening to at the moment and the songs I'm writing and the people I'm trying to write in the style of. At the moment it is all west coast late 60's stuff. The 3rd album will be very different if we can do it in exactly the way we've been talking about it for a while.
How old were you all when you started recording together?
I think we were either 15 or 16. Me and Mike (who has now left) started the band when we were 13 or something, just messing around with four tracks and dictaphones. 15-16 was when we did the first single.
If there was one song that made you want to make your own music, what would it be?
I dunno if I could ever answer that. I mainly have a couple of songs a year that make me continue making music and not killing myself. One of those would be "Such A Night" by Dr John which I listen to all the time. Its just amazing. Or "King Of The Rumbling Spires" by T-Rex. That song is bizzare!
Is it true the band is named after a David Shrigley book? Is he also an inspiration of sorts for drawing your own album art?
The Shrigley thing is true. I used to be very into him when we first started. I think there must be a subconscious album art Shrigley connection, but I don't ever think about trying to draw like him. I would think more of how Dan Clowes or R. Crumb draw.
What's your favorite Shrigley image?
I like that Parts Of The Fist one. I dunno what its from, but I remember it being good.
You guys just released your second LP, Nursing Home, that you recorded with Steve Albini. What was it like to work with him? Was he as humble and "hands off" the band's creative processes as he's reputed to be?
Yeah totally! He made a couple of suggestions, but not many, in the same way any good engineer would. He didn't go too far with it to the point that I would've gotten pissed off. He was a cool guy. I've been finding it hard answering this question because a lot of people see him as an Angsty Punk God, and I was certainly in that camp before doing this record and spending time with him. He just seemed like a regular Nice Guy with some really cool opinions on things and some things I really disagreed with, like anyone.
While I find that English bands tend to do a good job of intertwining charm and wit into their lyrics, you particularly do so. What triggers such cleverness for you when writing?
Thank you. I don't know if there is ever a trigger. I hate writing lyrics. I don't get why people think I'm so good at them. Most of the time I don't even pay attention to what I'm really saying and it won't be until quite a long time after writing the song until I realize what its about.
I heard that you were going to name this record Trout Mask Wrestlica. Did Simon Trought have anything to do with that (as you recorded your first LP with him), or was it totally an homage to Captain Beefheart? Why the change of heart?
In The Court Of the Wrestling Let's was an idea I had for years because of the King Crimson LP. Also cos I loved the Butthole Surfers Hairway To Steven record. Darkus Bishop came up with Trout Mask Wrestlica when we finished the 1st LP and we started talking about 2nd album names. Trout Mask Wrestlica is a far better name than In The Court… but we didn't want to have to carry on the whole parody album names forever. I don't want us to be looked at in the way a band like Half Man Half Biscuit are, a Joke Band.
If "Je Suis Un Rockstar" is the best thing ever made by one of the Stones, what's the worst thing ever made by one of the Beatles?
Thats a hard question. First off I want to say that The Stones have done way better stuff than that. I actually really like the early Brian Jones era stuff. When I said that "Je Suis En Rockstar" was the best thing any of them did I think I just get angry that The Stones get used in the same sentence as The Beatles because It's not worth comparing. It is so obvious who is better. I'd understand more if it was The Stones or The Faces, people just shouldn't bring The Beatles into it. I can't think of anything I hate by The Beatles or any of its members cos even the naff stuff is brilliant. Me and my friend Merida had this conversation where I would play her Beatles songs that I could live without then every time I played "Honey Pie" or something I'd go "No it is Brilliant!". The closest ones we came to were "Three Cool Cats" (which is a Coasters song anyway) and "The Long And Winding Road", which I just think is a bit too soppy and unremarkable. But then again if any other band did this song, I imagine I would say that it was brilliant. Any bad Beatles is song is still gonna be better than the best Stones song.
What kind of advert would you hear a Let's Wrestle tune on?
None, knowing our luck. I'd love to be on an advert. I am sick of being poor and any money would be amazing. There was talk before where we nearly got a lot of money for a Reese's Peanut Butter cups advert, which would of been perfect but we lost out right at the end. I was devastated.
Finish this sentence. Making music in London…
Is sometimes interesting, sometimes terrible like anywhere else. You can get disenchanted or inspired by anywhere, even Hull.