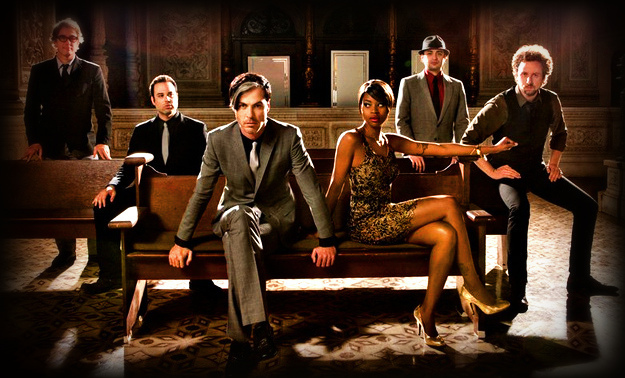 Columbus has fallen in love with Fitz and The Tantrums. The band – led by Michael "Fitz" Fitzpatrick has been a mainstay on the Columbus concert circuit in the two years since their debut album – Pickin' Up the Pieces – was released. In 2011, Fitz and The Tantrums performed at The Basement, The Newport and the LC (indoors). On Friday night, they make their LC (outdoors) debut, headlining a show with ZZ Ward and Royal Teeth opening.
Enough music writers have been asking the same old tired questions ("How did you get together?", "Where did you find Noelle?", "What influenced your '60s soul-pop sound?") that I decided, when given the opportunity to speak with singer Noelle Scaggs last week, I'd rather have a conversation than interview her. If you want to read background about the band, just Google "Noelle Scaggs interview". If you want to get to know Noelle a little more personally, read on.
It's a Friday night when you're not on tour or doing anything band related. What are you doing?
Going out with friends that I don't get to see that often, spending time in the Venice Beach area with my best friend because he just recently moved there. I do the normal things that people in their early 30s do – they go to bars, they go to dinner, they hang out. It's quite interesting being a person who is on the road as constantly as we are to have those moments where we can just hang out and be normal.

If I bump into you at a bar, what type of things can I use as conversation starters to get you talking for hours?
Normally when I'm having conversations we go from politics to spiritual stuff to fun things. It's really interesting being at a bar because the minute people ask me what I do and I tell them I'm a singer, everything gets focused on the music. From the standpoint of hanging out, we're talking about politics, what's going on in the world, social activities, those are the types of things that interest me. If I'm talking about music, it's about others band that I've seen live or music I'm listening to.
What about sports?
I'm only interested in sports during football season. I'm a very well-known Packers fan. There's quite a happening between Fitz and I because he's a Giants fan. We lost to them in the Super Bowl so it was very sad. But it was a full season of talking nothing but crap because Green Bay was doing so well and I was so disappointed at the end of it.
As much as I do enjoy being out on the road, I'm also one of those people who enjoys being home. I cook a lot. I'm often inviting friends over for dinner parties. If you follow me on Instagram (@nscaggs) or follow my Facebook profile, I'm posting up recipes for people or things that are more green living, not using toxic chemical products on your skin. I'm often at home in my garden working on stuff, making lavender oil.
I'm just a normal girl who does enjoy shopping, the occasional date, whenever that happens.
It sounds like you try to be "green" and environmentally conscious.
Being in this world, especially when you're on tour, you go through a lot of plastic – bottles, cups, cutlery. There was a period in time when I was going to Target and buying silverware for the bus so that we were able to not waste so much plastic. But sometimes we can't avoid getting bottles of water, there's no source of water other than using plastic bottles because we don't have a water tank that we can bring on the road. Anything we can try to do on tour, we try to do.
It's very difficult to be green on the road the same way you are when you are at home. I do have bags that I take into grocery stores, I barely even use paper bags anymore. The paper bags I do use, I use for wrapping paper at the end of the year. Not everybody knows how to do those things but there's so many ways to reuse things like glass bottles for storage and little things like that.
When you're on the road, are you a slave to fast-food restaurants and truck-stop snacks?
We don't eat a lot of fast food. We often get buy-outs from the venue and then we can choose restaurants to go to. When we're able to go to a Whole Foods store or natural food market, we're able to buy things that will hold us over for a week or so. We're all very conscious of what we're eating.
For the most part we try to eat a good, balanced diet because it can really affect you. It affects your temperament when you're eating really crappy food all of the time. Being in close quarters with 8 other individuals can really be a downer if you're not into your body and your behavior and all of these things.
You practice being green, you eat well on the road. Is there anything bad about going on tour?
It's tough, when you're on the road as constantly as we have been the last two years, you get homesick. You do miss having your own space at times. You do miss being in one place for longer than a day. You're a stranger in every city that you go to unless you have family or friends there. Fun as it is doing what we do and being able to travel and be in all these different places, when you're doing it every single day and you wake up on the bus in a parking lot of a hotel or a parking lot in a random city and it's completely opposite of being home and being what you're used to, it does become tough.
You do have your moments of depression. It can really take over unless you're surrounded by people like the band. We all keep our perspectives and are respectful of one another. We're all friends. I think that's the most important thing you can have on the road. There's nothing worse than being in a band where there's complete conflict all the time and nobody is on the same page and you're partying all the time. It does have it's moments, as fun as it is being on stage and playing in front of these crowds that appreciate your music, it's very hard to have a life that is normal.
You're a superstar in your right, but have you ever been starstruck when meeting another celebrity?
I was completely crying. I was crying because I was standing 2 inches away from Bonnie Raitt. We were at the Hardly Strickly Bluegrass Festival in San Francisco. I have been a fan of Bonnie's since I was 10 years old. My brother, who passed away when I was young, introduced me to her music and she was one of the reasons why I became a singer. I've always loved her as a person and the way she carries herself in the public eye, the things she does for other musicians. She's awesome.
So I got to tell her that, it was such a moving moment for me to meet someone that was as gracious as she was. She was so happy and thrilled that I got to say that to her. She was flattered. It was a real moment for me to meet somebody that I had grown up and to see those things in her and know that's the kind of artist I want to be for somebody some day. She was watching a performance of another artist and I just happened to be there and saw her from across the way.
Finally James comes up to me and says, "Are you crying?" I said, "Yeah, I'm freaking out because Bonnie Raitt is standing right there." I told him my story and he said, "You should go tell her that." I told her we were playing there, but I don't think she knew who we were.
Are there any songs or albums or artists that you consider a soundtrack to your life?
Michael Jackson's Off the Wall brings me to childhood, like my infancy. It brings me back to Denver, Colorado and our old house there and my siblings. All these different things – the record player, my room full of toys. I was the baby of the family, I got anything and everything I wanted. I made everybody watch Michael Jackson videos – not that everybody didn't want to.
Sister Sledge's "We Are Family" brings me back to my old neighborhood in Hawthorne, California when I was in elementary school or junior high. That was one of the records I used to play every single day at the same time in the afternoon. I would blast it loud in the apartment and everybody knew I was home because "We Are Family" was on in the living room coming from our apartment. Hearing that song still makes me happy.
Everybody has an Ohio connection – they have an aunt that lives here or used to have a roommate from here. What's your Ohio connection?
I used to go to Dayton every single summer to visit my grandmother. My mother and family are from there. My brother lived in Westlake with his family. Every time we go to Cleveland I get to see them. I have a lot of family in Ohio.