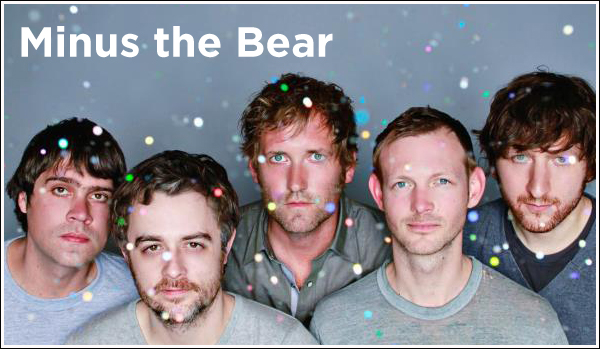 Minus the Bear performs on the Bud Light stage at 5:30pm on Friday, July 13
Minus the Bear is a 5-piece from Seattle whose music is "bristling with guitar acrobatics and infectious melodies". Their new album, Infinity Overhead, will be released on August 28.
What does "bunbury" mean? (No cheating; give it your best guess)
You lost me at "no cheating"
What are 3 things that you know about Cincinnati?
a. Big
b. Red
c. Machine
(that's all you really need to know, right?)
Write a Twitter-style (140 character) description of your band
5 guys. 12 years. 1 band that was formerly known to have funny song titles. tappy guitar. liquid lyric. loud drum. bleep-bloop. thumbs up.
There's a lot of great bands performing at Bunbury, give a sales pitch about why people should come watch your band during the time slot you're playing?
Hands down, we will absolutely positively be the best band playing Minus The Bear songs at the time of our set. In fact I challenge all other bands playing at the same time, to play a better Minus The Bear set. Good luck. No one plays Minus The Bear like us. NO ONE.
What do you think of the fact that Jane's Addiction is headlining one of the nights of this festival but is not appearing at Lollapalooza this year?
Haven't lost sleep over it. Wouldn't mind checking out their set though.
What band is missing from this lineup that you'd love to share a bill with?
SLAYER!!!!
Will you have the opportunity to check out any other bands and, if so, who are you looking forward to seeing?
I'll probably just hang out in the Bud Light tent…because, hello?! BUD LIGHT!!!