Tag Archives:
Del the Funkee Homosapien
MP3: 3030 by Deltron 3030
Welcome to the future, folks.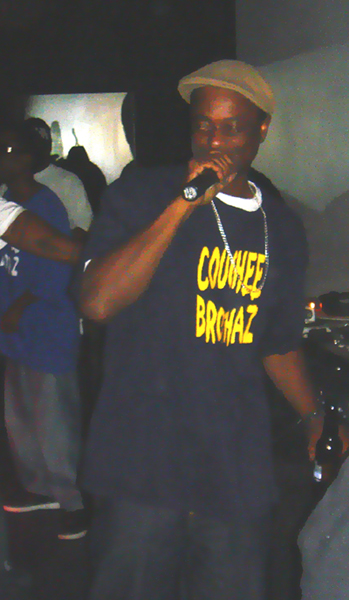 Picture of Devin the Dude by Johnny Cashola using a Crayola Crayon
 Last Week, On the Floor brought Devin the Dood through Columbus on tour with Del the Funkee Homosapian, Bukue One, and a few other independent Hip Hop acts. Word about Del signing a contract with Def Jux, with an option for a Del-P album, after his first Jux album hadn't traveled around, so most of the buzz was around Devin. Del had been here a million times, and the current state of Hip Hop in many ways celebrates Devin being from the South more than Del's love of video games and rapping about absolutely nothing most of the time. I mean Devin was on the Chronic 2001. Del..his mainstream exposure is…the Gorillaz. Who for me are kinda like Coldplay for people that prefer anime over VH1. Thats not to say Del isn't a legend and I didn't pierce my nose, wear big headphones, big pants and skate with small wheels during Hiero's heyday. I am just saying Devin the Dood seems a little more interesting these days than Del.
Any way Devin called me about 5pm day of the show, and asked me if it was cool for him to come kick at Mag's after soundcheck. So of course I was like shoot through.
Pictures of me looking corny with Devin, and show review after the jump.