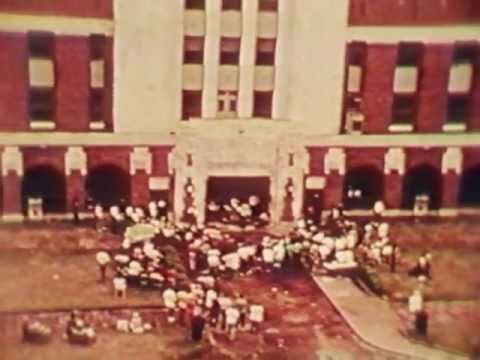 The Malefactors of Great Wealth is the project of JP Olsen, whom Columbusites may know from his previous bands: Beetkeepers in the late '80s and Burn Barrel (basically Olsen backed by the Haynes Boys) in 1999. Olsen, who now calls Brooklyn home, put out a Malefactors EP on Old3C Records a couple months ago called Today is the Best Day of My Life. Don't overlook it. It's exceptionally strong. Tim Easton fans may also be interested to hear "True Ways," the remake of a song from Beetkeepers' self-titled album that Easton covered on Break Your Mother's Heart.
So, the "Prisontown" video. That's not the Malefactors of Great Wealth in there, as you probably figured out. But this archival footage is anything but random. Olsen is also an author and filmmaker, working on several indie and PBS documentaries. He also directed his own fascinating documentary called The Narcotic Farm (and co-authored a book of the same name) about a prison for drug addicts in the 40s and 50s. (The film has been optioned for both television and feature film release.) The stuff in "Prisontown" was taken from footage that Olsen found but didn't use for the film. The band playing in it is called The Pacific Gas and Electric. Very little of the footage has ever been seen.
The Malefactors of Great Wealth will be at the Rumba Cafe on June 24 and 25 with Tim Easton and the Madison Square Gardeners.
In more JP Olsen news: You'll soon hear of an Olsen split 45 with The Black Swans. Both artists challenged each other to come up with a song based on the Chris Burden art piece "You'll Never See My Face in Kansas City." (Burden wore a mask for days in Kansas City and never took it off.)