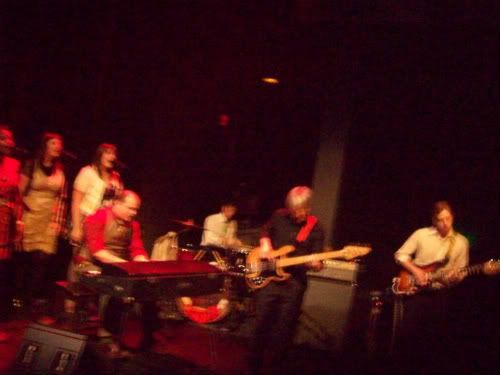 Pictured: Nick Tolford and Company@GenWex presents: Off the Grid
Perhaps I've said it before (no way I'm trudging through those old posts) and If I haven't, I'm saying it now. I'm a bringer togetherer, make it happennerer and a motherfucking idea factory. Basically what I'm saying is let's all be cool, hang out and high five-you know? Life's too short to not be a cool motherfucker!
In this blogisode, I pretty much ran myself ragged but I had a fuuuucking blast. Mouth of the Architect slayed, I somehow found time to check out a couple CD101 day Big Room performances, GenWex presents put on a killer benefit called Off the Grid with a bunch of awesome food and good looking people, Nick Tolford and Company made the crowd wet (myself included), The Hood Internet rocked the joint hard, I managed to catch a couple Brainbow songs at Carabar, did shots with Ron and jammed to some Team Tim Trivia (y'all gotta get on this).
YOU KNOW WHAT TO DO AND HOW TO DO IT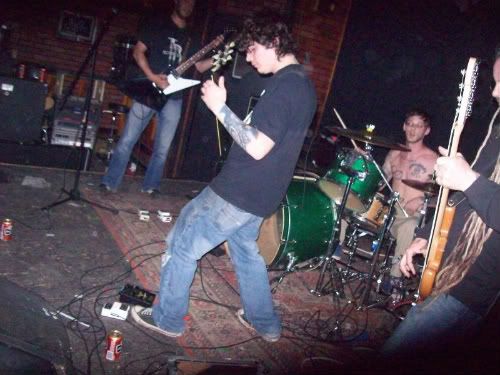 Pictured: Mockingbird@Summit
Friday night it was time to get my metal on and I sure the fuck did. Openers and young Columbus dudes Red Sun surprised the fuck out of me. These dudes like The Melvins and Baroness a whole bunch, but it wasn't too contrived or apey at all. Dudes got the parts down, but IMHO could stand to tighten up a bit. Will definitely scope these dudes again next time I get a chance. These kids were followed by Dayton dudes Mockingbird and they pretty much totally ripped. Reminded me of a heavier, sludgier Pelican with a few more vocals. I wasn't expecting two bands I had never heard of to melt my face off. (love the shit out of when that happens)

Pictured: Mouth of the Architect@Summit
I mean what can I say about MOTA that I haven't already. These dudes were loud as fuck, ethereal as fuck and the shit was damn near transcendental. Don't do yourself the disservice of missing them the next time they come through if you're not a pussy-you heard???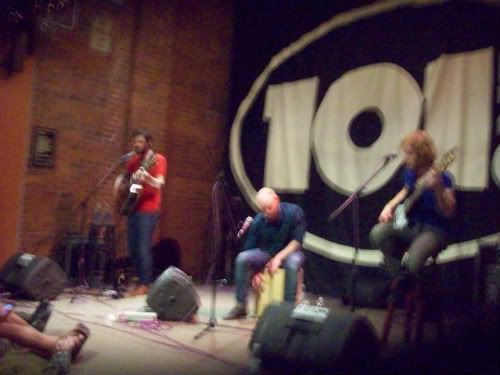 Pictured: Biffy Clyro@CD101 Big Room
Not quite sure how I ended up at CD101 on Saturday afternoon, but since I was there I figured I might as well check out a couple of the CD101 day Big Room performances. Biffy Clyro are Scottish dudes that are huge in Scotland. I caught them a while back when they opened for Queens of the Stone Age and didn't totally hate them and I can pretty much say the same thing this time around. Only caught one song-dude was using some type of wooden box for percussion-thought that was pretty neato.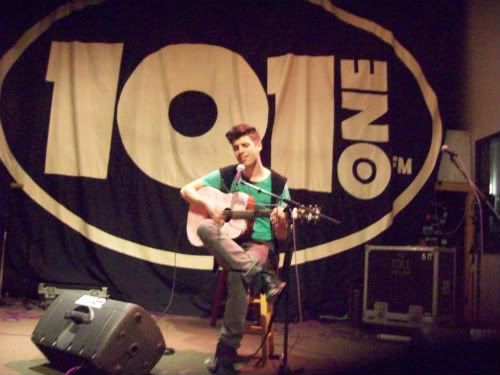 Pictured: Dan Black@CD101 Big Room
Dan Black is some British dude that lives in France and Kid Cudi is on one of his tracks. I mean look-all I got. Dude was cool enough, like I didn't want to gouge my ears out or anything. Heard his set wasn't totally rad at the LC later. Whatever Whatever. Now for the good shit lollipop.

Pictured: Nick Tolford and Company@GenWex presents: Off the Grid
Aight here's the story. GenWex presents Off the Grid. Benefit. Dope food from a bunch of dine original joints, dope jams from Nick Tolford and Company, dope beats from The Hood Internet and DJ Detox and dope weirdo dance whatever from Anna and the Annadroids. (check out real pics from our girl Rachael Barbash here.
Let me just say-Nick motherfucking Tolford and Company killlllleeedddd it maaaaaaaaaaaan. (remember YOU HEARD IT HERE FIRST) I mean these dudes are blowing the fuck up. A bunch of fantastic looking motherfuckers these dudes are. Excellent fucking players as well oh man. I mean Mike O on Druummmss!!!! NICK TOLFORD IS THE WHITE RAY CHARLES. I mean this is the soul funk revival slaaaam and these cats ARE NOT FUCKING AROUND. Best band in Columbus. Hands down. If you haven't heard and you like good shit, you really should reconsider how you do life. CD101 GET ON THIS SHIT THESE DUDES ARE BLOWING UP!!!! (Booker T and the MG'S openers I mean) I dunno what else to say. COLUMBUS BANDS ARE RAAADDDDD MAAAAAAAAAN.
Wasn't gonna share this 'cause the sound is super blown out but you gotta catch these dudes vibe. (turn your shit down) MOTHERFUCKERS GOT THAT SWAGGA!!!!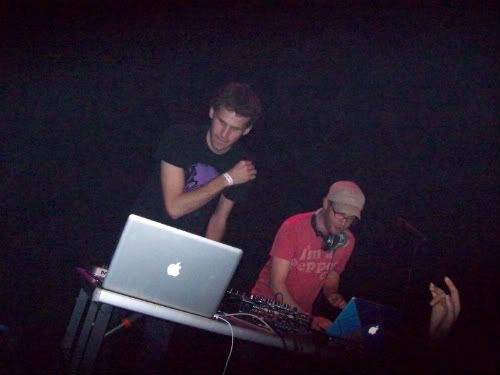 Pictured: The Hood Internet@GenWex presents: Off the Grid
O.K. Here's the scoop. Mr. Dibbs> The Hood Internet> Girl Talk (dudes lucky I even mentioned him) For real though, hip-hop indie rock mash up dudes that rocked that joint hard. Not gonna front, like the mixes better than the live stuff, but mofo's had them asses shakin' bigtime.

Pictured: Live ass crowd@GenWex presents: Off the Grid
I TOLD YOU THIS JOINT WAS LIIIIIIVE

Pictured: Brainbow@Carabar
Yeah, you know the story-Brainbow Brainbow Brainbow-IF YOU HAVE TO ASK. For reallls it's miraculous that i made it to Carabar. Shit got weird, something about Bobby shots. Whatever Brainbow own and Cbus rules.
Last things last. Wex dude Tim Fulton (team tim) does trivia at Bodega on Sunday nights and I AM CHALLENGING YOU (to drink a sixer like me before you get there) and to try and do better than my radass team (2nd place two rounds in a row? WHATEVER JESUS PHONE CHEATERS).
In closing, like I said before-LET'S ALL HANG OUT BE COOL AND HIGH FIVE!!!!!
I need an investor and/or sugar mama. Donewaiting office blueprints in the works. Can't wait.