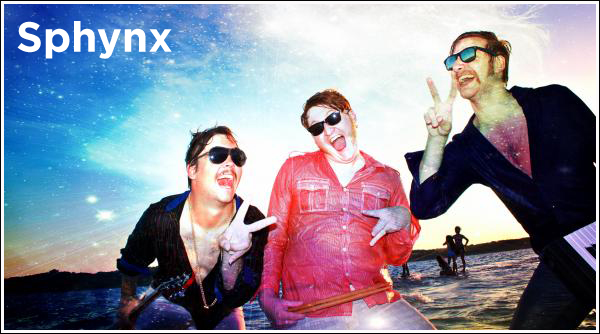 Sphynx performs on the BudLight stage at 12:45pm on
Friday, July 14
Sphynx is an Austin synth-pop-and-electronic trio that "recycles a bit of history and puts a bit of soul to their songs" and has opened for acts such as Wavves, Maps and Atlases, Holy Fuck, White Denim, Peelander-Z, and The Octopus Project.
What does "bunbury" mean? (No cheating; give it your best guess)
I'm guessing it probably dates back to a time when Cincinnati was one of the the leading exporters of the pastry that we now know as the Honey Bun. The 'Bunbury' was probably a city wide festival that would celebrate the beginning of the holiday season during which the majority of the city's pastries would be sold, putting food on the tables, presents under the christmas trees, and joy in the hearts of the people of Cincinnati. Just a guess though.
What are 3 facts that you know about Cincinnati?
I know there's a really great festival that happens there (along with Bunbury), called Midpoint Music festival that I've been wanting to go to. Also, the Reds used to be called the Red Stockings back when socks were the best mascot anyone could think of. I also found out on Wikipedia that the town was originally called "Losantville," a mash-up of four languages that translated to "the city opposite the mouth of the licking river." My question is this; did the river lick you, or were you supposed to lick the river? And, where is the best place to lick/get licked by the river? We'll look into that upon our arrival.
Write a Twitter-style (140 character) description of your band
#sweatparty #fatbeats #inflatablesax #synths #talkbox #itsgonnabesuperwild #littlesphynxonabigbigstage
There's a lot of great bands performing at Bunbury, give a sales pitch about why people should come watch your band during the time slot you're playing?
Well, we play at 12:45 on Saturday, so we're actually the reverse headliners. Also, I don't think there are very many bands playing this festival.
What do you think of the fact that Jane's Addiction is headlining one of the nights of this festival but is not appearing at Lollapalooza this year?
I feel like Lollapalooza is treating Jane's Addiction like a rag doll. I've never been in love, and I don't know what it is. But, I do know that Cincinatti wants Jane's Addiction, and they want Cincinnati if Cincinnati wants them. I'm sure Lollapalooza means no harm, they just don't know what else to do about it.
What band is missing from this lineup that you'd love to share a bill with?
I think collectively, our favorite festival bands are Cut Copy and The Flaming Lips. It'd be insane to share a bill with them, but we are also really pumped about Dan Deacon, Weezer, Passion Pit, Bright Light Social Hour, Ume, and Black Taxi!
Will you have the opportunity to check out any other bands and, if so, who are you looking forward to seeing?
Definitely! We plan on hanging out in Cincinnati for most of the weekend. We're happy we get to play the same day as our friends in The Bright Light Social Hour (from Austin) and Black Taxi (from NYC) we've played with both of those bands before and they are a blast to watch live. And of course, we're pumped for Weezer, I can see our high-school selves giving us big high fives for that one. It's going to be a wild weekend!