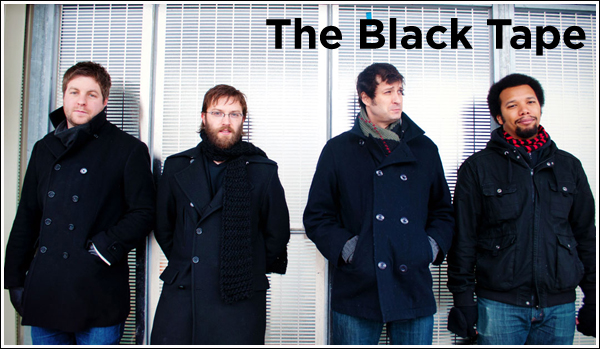 The Black Tape performs on the AliveOne stage at 12:00pm on Sunday, July 15
The Black Tape is a Chicago four piece that blends sixties influenced rock, Motown sound and power-pop flare. Influences include: The Kinks, The Zombies, The Beatles, The Crystals, The Byrds, and Motown
What does "bunbury" mean? (No cheating; give it your best guess)
Sounds like a mythical berry from middle earth, or from the picture some sort of bee? Or a A Bunbury is a tasty psychedelic Pastry popular with music obsessed Cincinnatians that love to have a good time.
What are 3 facts that you know about Cincinnati?
WKRP in Cincinnati, it's a 5 ½ hour drive from Chicago, and that they've got something called Skyline Chili that we're dying to try.
Write a Twitter-style (140 character) description of your band
Energetic Rock with a unique mix of sixties influenced rock, Motown sound with a modern power-pop flare
There's a lot of great bands performing at Bunbury, give a sales pitch about why people should come watch your band during the time slot you're playing?
Because we bring a charismatic, energetic live show that will make you dance your ass off. And songs that you won't be able to get out of your head the entire day. You DO NOT WANT TO MISS OUR SET! Besides , this will be our first show in Cincinnati and we want to show you a good time! (first impressions are everything)
What do you think of the fact that Jane's Addiction is headlining one of the nights of this festival but is not appearing at Lollapalooza this year?
They must have heard that we're playing so they jumped on! But seriously, I think it's pretty amazing, they are an amazing live band. I saw them years ago at Lollapalooza and they blew me away. I think it must mean they really believe in what Bunbury is about and that's really cool. We're super excited and honored to share the same bill with such a legendary band.
What band is missing from this lineup that you'd love to share a bill with?
This is probably the toughest question ever. So many amazing bands… Can we get back to you?
Will you have the opportunity to check out any other bands and, if so, who are you looking forward to seeing?
We're getting in on Saturday since we are playing the Taste of Chicago Friday afternoon so we're gonna miss Friday night, which we're bummed about since Jane's Addiction, Ra Ra Riot, Kids These Days, and Matt Pryor are playing. But when we get there, we're really looking forward to seeing THE GASLIGHT ANTHEM, Manchester Orchestra, Passion Pit, Guided by Voices, Margot & The Nuclear So & So's, and Chicago's own Maps & Atlases, but seriously the list goes on and on.