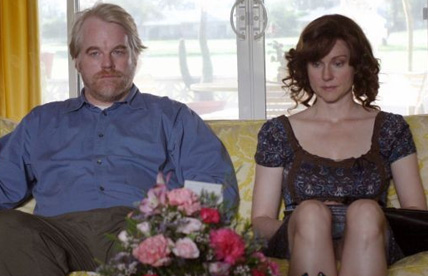 It's been almost a decade since writer/director Tamara Jenkins's semi-autobiographical coming of age comedy The Slums of Beverly Hills, and yet there's no signs of rust or dust on her latest, a semi-semi-autobiographical melancholic comedy about one of the least funny topics imaginable—putting your demented, dying parent in a nursing home and then watching them die.
In a somewhat surreal opening in the incredibly surreal Sun City, Arizona, a brightly colored paradise for the aged and elderly, we meet Lenny Savage (Philip Bosco), who is beginning to lose his mind. When his equally elderly and sick live-in girlfriend dies and her family claims her house, Lenny finds himself without a home.
Enter his two adult children, Jon and Wendy Savage (played by Philip Seymour Hoffman and Laura Linney, respectively), whom Lenny abandoned as children and apparently abused to some unspecified degree. Both have grown accustomed to having nothing to do with their father and little to do with one another, but find themselves reunited and forced to care for him, despite having plenty of growing up to do themselves.
Jon is a Buffalo, New York based philosophy and theater professor working on a book about Bertolt Brecht and pushing away his Polish girlfriend, who has to leave the country when her visa expires unless he marries her, which is apparently out of the question.
Wendy is a temp in New York City applying for grants to produce her play about her messed-up childhood on company time, while carrying on a not-terribly-sexy romance with a fiftysomething married guy (Peter Friedman) who seems to be more devoted to his aging dog than he is to her.
Now, there are few things in the world more depressing than Buffalo, New York. And one of them is the umbrella category of nursing homes. So the young Savages moving their father into a nursing home in Buffalo in the winter? I had to just call a suicide hotline between typing that last sentence and starting this one; you can imagine how depressing seeing the actual film is.
Jenkins moderates the super-downer nature of the subject matter with plenty of humor, albeit of the extremely awkward kind, like her protagonists pissing off a whole dementia support group by touching their cookies before the meeting's over, sponsoring a screening of 1927 Al Jolson talkie The Jazz Singer attended by plenty of black folks, or trying to get him on the record about what he'd like done with his body after he died.
Jenkins' script is sharp, cutting just as deeply in its jokes as its drama, and as uncomfortable as it can be to watch at times, it's extraordinarily well made, supported by three incredible performances. Bosco's is of the sort that is likely to attract awards attention if enough people bother to see the film—he acts out a showy affliction, and he does so in a way that doesn't look like he's showing off. Hoffman does his normal strong job, mixing his schlubby art-housee Jack Black demeanor with the more serious, naturalistic tendencies. And Linney gives what may be the performance of her career, as a deeply flawed woman with a difficult relationship to the truth and the men in her life, a woman whose imperfections are at turns hilarious and heart-breaking, depending on the ever-shifting context.
That this is easily the year's most observant and affective feature film about elder care should come as no surprise; that it's one of the year's more observant and effective feature films in general is, however.