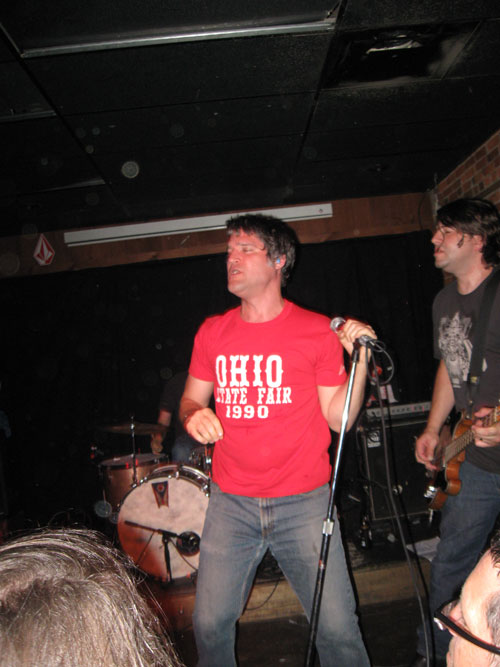 On Saturday, August 1, to celebrate their bassist Matt Reber's 40th birthday, Columbus punk legends New Bomb Turks invaded Ravari Room. The good time was guaranteed. To make the event even more special the band would play their landmark debut LP !!Destroy-Oh-Boy!! top to bottom! A treat, indeed… And so it came to pass. And now that it did, we, who were there, can proudly brag about being there for years to come. And those who weren't there will probably say they were, as they tend to do sometimes.
Released by Crypt Records in 1993, !!Destroy-Oh-Boy!! was met with rave reviews in both indie and mainstream music press. Spin Magazine gave the album it's "Highly Recommended" mark. The record became an instant garage punk classic and to this day is a standard other records of the genre are compared against. As for the Turks…. Well, they went on to put out more awesome records for some pretty big labels, tour the world and influence a whole slew of bands both big and small all over the world. Not bad for a bunch of punks from Columbus. And even though they don't gig much anymore, we get to see them every now and again, being the home town crowd and all.
Now on to the show…. The entertainment for the evening was pretty diverse. Besides the Turks, slated to play were a local noise duo Sword Heaven, Birds Of Hair, fronted by Scrawl's Marcy Mays and rounding out the bill was DJ True Skillz, who, in-between the bands, provided a set of awesome vintage funk and soul you are not likely to hear many places. Dude's got some records, man!
Sword Heaven kicked things off. I was particularly curious to see how their brand of aggressive experimental noise would go over with the Ravari crowd. A few folks did run for the door, but for the most part the response was positive. Not a noise aficionado myself, I've always liked these guys. The gadgets, the theatrics, the heavy rhythms… My friends and I always joked about running drums through a distortion pedal. These guys actually do that!!! And ya know what? It sounds pretty bad-ass.
Next up were Birds Of Hair, an all- female band featuring, besides Ms. Mays, Sara Yetter of El Jesus De Magico on bass and Jen Burton on drums. Their brand of rock is more on the psychedelic side of things. I've always been fan of Sarah's bass playing. It's not too complex, but not without nuances either. Paired with Jen's primal drumming they make a great rhythm section to Marcy's eerie guitar sounds and vocals. Pretty cool!
Finally it was the New Bomb Turks' turn to grace the stage. By the time they did, the Ravari was packed to the max, the crowd was charged and ready to go. Some folks came to see the show from as far Chicago and NYC. The band took the stage and with the first chords of the classic opener "Born Toulouse-Lautrec" the madness, rarely seen these days at punk shows, ensued. And all was great!!!!! Enthused punkers, old-schoollers, dudes and babes sang along, danced, sweated and dry-humped all over the place. On stage the Turks' were once again showing us, why the world-over they've always been regarded as one of the best live acts. With front man Eric Davidson's frantic howling, moving and shaking, Jim Webers's sick guitar riffing and wailing, Reber's stomping bass-lines and Sam Brown's fast hard drumming the crowd was hardly given any chance to take a breather between the songs. And even when the band would stop to take a sip of their beers, Davidson kept entertaining by dishing out zingers to random members of the crowd. All in good fun, of course… And then they would go back into it again. And the crowd was with them all the way, screaming along to classic blasts like "Tail Crush", "Tattooed Apathetic Boys" (with it's heys and yeahs) and their great take on Wire's "Mr. Suit". And yes, a night this festive would not be complete without Don B. doing "Batman"! After the band was done going through !!Destroy… it was time to bring out Matt's birthday cake. Naturally, the cake was made in the shape of one-finger salute with number "40" in the middle. How fucking punk is that? The crowd then proceeded, joined by the band, to sing a very heart-felt version of "Happy Birthday To You!". After that the band took a short break and then got back on stage for an encore, during which they performed one of my favorite live staples "Defiled" from their '98 LP "At Rope's End"(Epitaph). There is a break in the song where it gets really, really quiet and Davidson motions to the crowd to get down, really, really low and then after a short while he counts "1…. 2…. 1! 2! 3! 4!" and the band and the crowd just erupt!!!!! I once almost lost a tooth doing that.
All and all it was a great night! Fun was had by all in attendance, I would like to think! Thanks to Matt Reber for putting together a great show and thanks to you for reading about it!!!!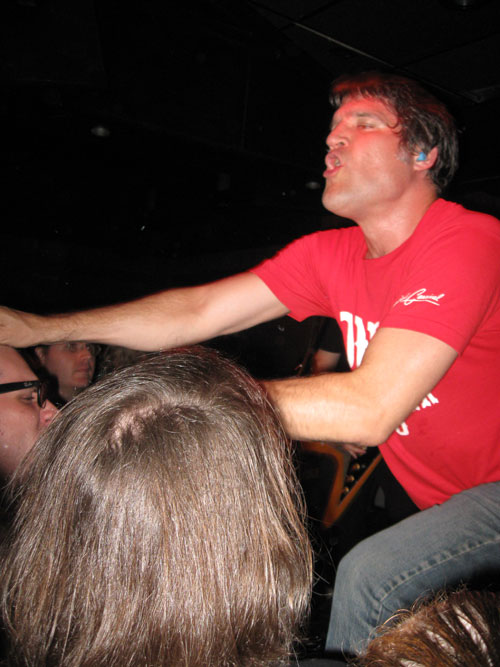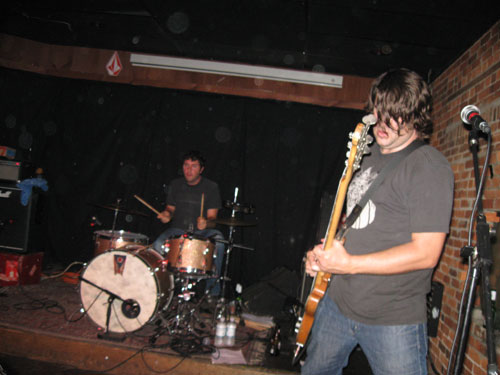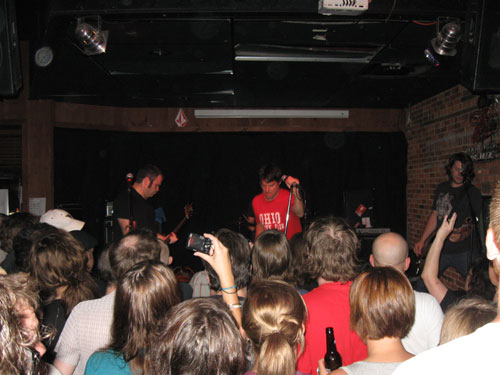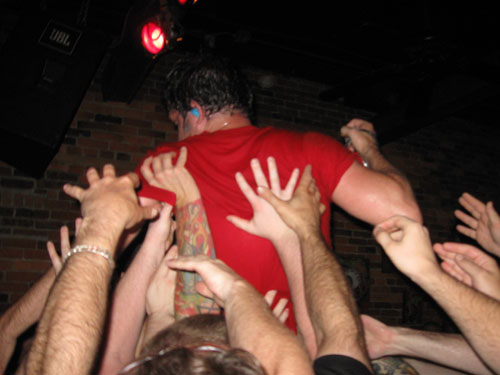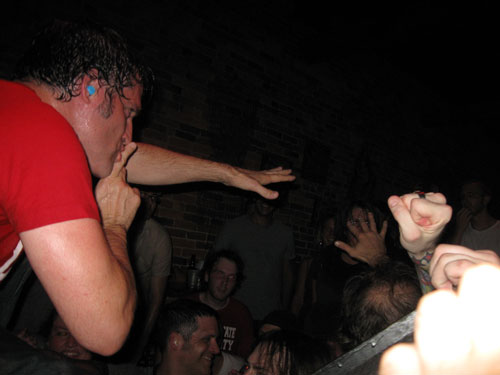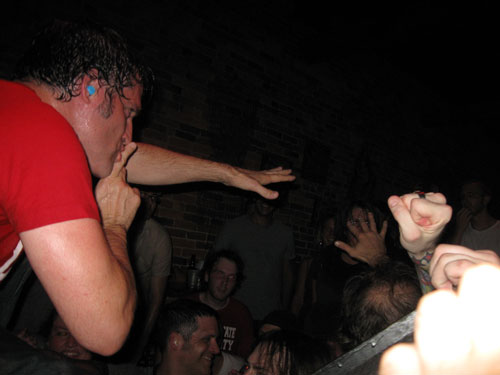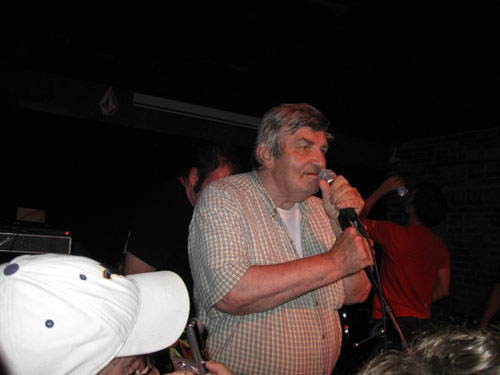 Don B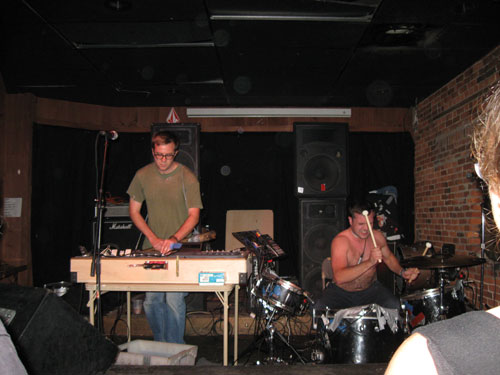 Sword Heaven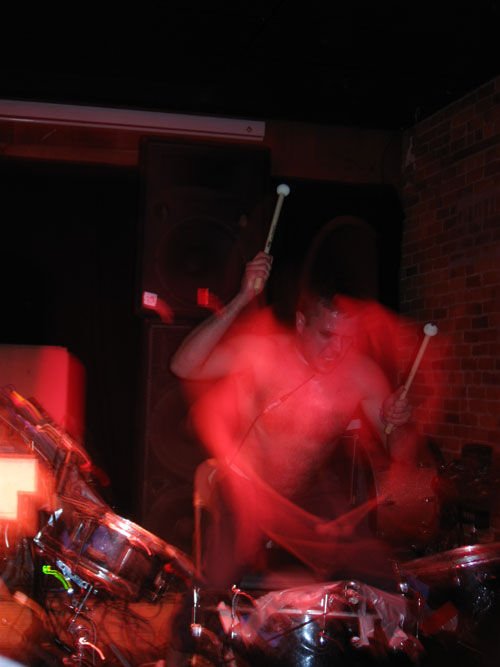 Sword Heaven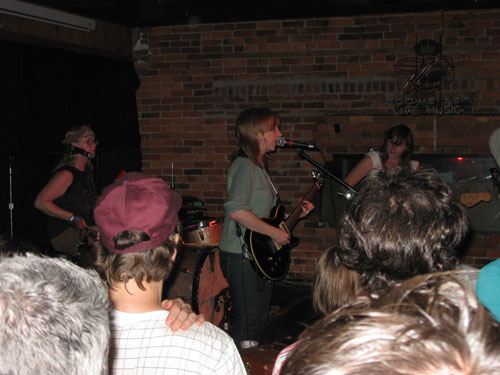 Birds of Hair