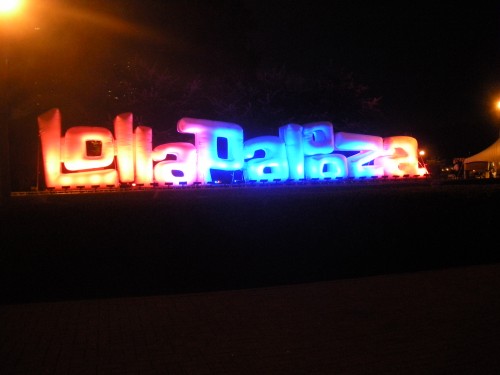 Who schedules outdoor festivals during the hottest part of the year? The heat was excruciating today at Grant Park where Lollapalooza 2011 kicked off. I guess if there was any sort of relief, it was that clouds blocked some of the sunlight by late afternoon but it still wasn't much of a reprieve.
If you check out bands that you're truly interested in seeing, chances are you won't walk away disappointed and while I'm not a superfan of any of the bands I checked out today, I didn't stray far from what I knew so therefore I had a great day.
Started off at high noon with Merge Records duo Wye Oak. Poor Jenn Wasner was plagued with guitar pedal problems almost from the get-go and at one point stopped midsong saying, "I can't do this. I'm sorry." You had to feel for her as she was playing in front of a large and eager crowd ready to get their Lollapalooza weekend started. Wasner is a completely amazing guitarist and she battled back from the problems early in the set to wow those hanging out at the Sony stage.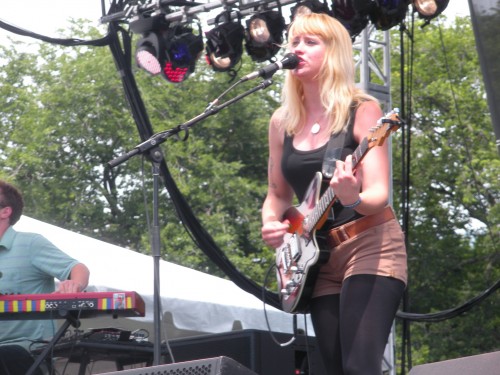 Caught UK's The Vaccines after Wye Oak. I've only listened to their US debut, What Did You Expect from the Vaccines?, one time but found myself recognizing and singing along with a majority of the songs in their set. Not as British-sounding as Viva Brother (who are not playing Lollapalooza), there was a certain Smiths element to some of the vocals. Saw these guys hanging out in the media tent after their performance and they are TALL dudes.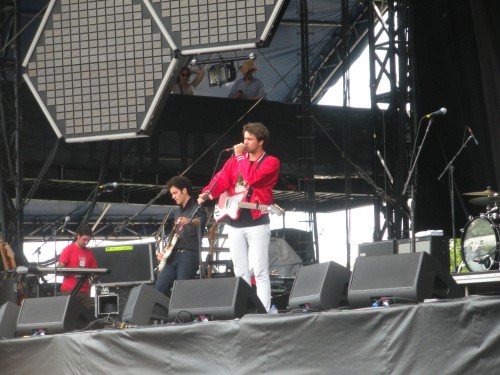 After The Vaccines were done, I loitered around the media tent and realized that there are a lot of bands where I don't recognize a single member. Lots of bands hanging out, doing interviews with everybody from Columbus radio station CD101 to Fuse to Billboard, and the only band I recognized was OK Go.
Delta Spirit may have delivered my favorite performance of the day. I've never seen the band when they've rolled through Columbus but I think they tend to play smaller venues like The Basement so it was pretty awesome getting to see them play in front of thousands of people. While they don't sound like Mumford & Sons, I see Delta Spirit as a band that could benefit in a big way from a high profile gig like this. Mumford & Sons had similar big breaks and look where they are now. I'm not really sure how to describe the band's sound – it had bits of Americana, bits of indie (whatever that means), maybe a bit of soul. It was just a really refreshing sound to hear mid-afternoon today.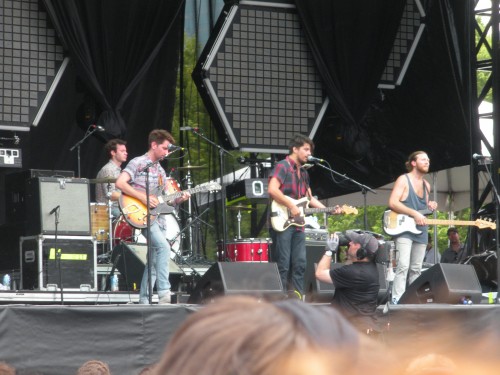 Caught bits and pieces of The Naked and Famous (the crowd LOVED this band), The Mountain Goats (playing the only real amphitheater on the property), and White Lies (from the same school of Brit-rock as Snow Patrol).
I kept forgetting A Perfect Circle was on the bill. With timing being an issue (all bands are done at 10pm), there wasn't really a good night time slot for the band over the course of 3 days but having them play in the early evening, while the sun was still out, certainly didn't do them any favors. Too bad because they are one of the few hard rock bands on the bill and there were definitely some die-hards in attendance as evidenced by the couple standing in front of me (and The Wet Darlings Bill Patterson) who were headbanging and dancing around like crazy fanatics (I captured a few seconds on video and will post at some point in the future). The one thing that is evident with A Perfect Circle is that the sound really revolves around guitarist Billy Howerdel. Despite the band being fronted by Tool singer Maynard James Keenan and featuring ex-Smashing Pumpkins guitarist James Iha, Howerdel is clearly the focus point and he commands the stage with his dark guitar playing.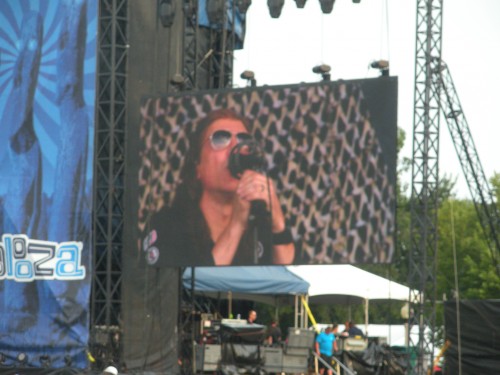 Watched Crystal Castles with the CD101 crew that is on-site and interviewing a bunch of bands (make sure to tune in throughout the weekend to hear Lesley James chatting with bands that are performing at Lollapalooza). Crystal Castles doesn't seem like a band I should like but the reality is I LOVE them. Not sure what you'd call it, maybe "electronic" music, but everytime I hear any of their songs, it reminds me of standing in a video arcade (am I showing my age?) and hearing a bunch of different games making noises. Alice Glass is entertaining to watch as she bounces around the stage and often ended up down front and nearly in the crowd. Not sure if it was the band or the soundguy, but there were some vocal problems throughout the set – at times you couldn't hear any of Glass's vocals. When members of the CD101 crew mentioned the problem to the soundguy, he apparently shrugged his shoulders and said he didn't care. Hmmm. Fortunately, the vocals were loud and clear on one of the only songs that I wanted to hear this weekend, "Celestica". Such a great and amazing song and it sounded as good live as it does on CD. Besides the dropped vocals, the other big disappointment was Crystal Castles ending their set about 15 minutes early.
With 3 big headliners all scheduled on different stages to end the night, I decided to check out a few songs from each rather than an entire set of just one. Muse was Muse, putting on a visually appealing live show with lots of lights, fireworks, etc. If you've never experienced them before, it's worth checking out for the visuals alone but I've seen them a few times so felt okay with heading over to the "dance" tent (aka Perry's stage) to check out Girl Talk. The tent was PACKED and the kids were dancing like they were in a warehouse at 2am. I finished off the evening watching about 5 Coldplay songs with about a million other people. Take a stadium's worth of Coldplay fans and put them in a general admission open air park and it's just a sea of bodies.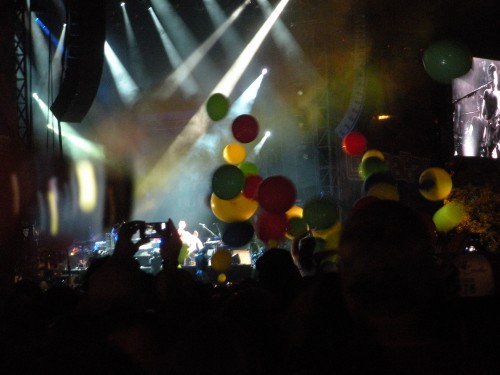 I did hit a post-Lollapalooza show at the Hard Rock featuring a DJ performance by Elijah Woods (kind of boring … I think he was texting throughout his set). Maps and Atlases (who recorded a DonewaitingTV session at Electraplay last year) followed Frodo and were very impressive. But not as impressive as Dave Davison's beard!