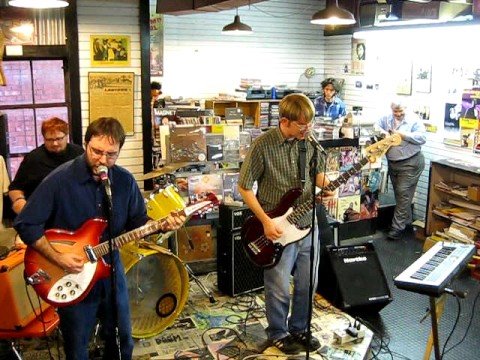 MP3: The Bygones – Losin' Blues
MP3: 84 Nash – The Giggle Party
MP3: Bigfoot – Hey Nadine
MP3: Bill Fox – Appalachian Death Sigh
As we've mentioned previously, Bob Miller's PBR-sponsored Megacity festival debuts this Saturday (9/10) at Woodlands Tavern, and it's a reunion-heavy lineup: 84 Nash, The Cusacks, The Bygones, Bigfoot, plus the original lineup of Tree of Snakes and Chris McCoy's first Columbus show in a year. Bill Fox is coming down from Cleveland, Wussy and the Seedy Seeds are coming up from Cincinnati, Kevin Failure of Pink Reason is coming from his overseas tour (where apparently he broke some ribs).Plus plenty of other great Columbus bands, many of whom have something special planned for Saturday.
Also, I wrote a story for this week's Other Paper about Megacity and the other two music fests coming up in the next two weeks, Music Week Columbus and Independents' Day.
Here's the full lineup and set times for Megacity's three stages (two indoor, one outdoor):

RED STAGE
12:30 The Salty Caramels
1:30 The Cusacks
2:30 Swimsuit Edition
3:30 Nick Tolford & Co.
4:30 Mt. Carmel
5:30 The Bygones
6:30 The Lindsay
7:30 Tree of Snakes
8:30 84 Nash
BLUE STAGE
1 The Spikedrivers
2 Flotation Walls
3 The Kyle Sowashes
4 You're So Bossy
5 Chris McCoy & Sean Beal
6 Bill Fox
7 Saintseneca
8 Bigfoot
10 Psychedelic Horseshit
10:45 Radio People
11:30 Pink Reason
12:15 The Unholy Two
1 EYE
WHITE STAGE
12:30 The Parishioners
1:30 Mr. Tiger
2:30 TK Webb
3:30 Andrew Graham + Swarming Branch
4:30 Bird & Flower
5:30 Drunk on Horseback
6:30 Tin Armor
7:30 Alleyes Path
10:15 Professional Wrestling
11:15 The Seedy Seeds
12:15 Wussy
1:15 Washington Beach Bums
P.S. Thanks to Minimum Tillage Farming for the Bygones and Bigfoot mp3s, and Wilfully Obscure for 84 Nash. Download full albums at those sites.