Tag Archives:
Ex-whites
Ace of Cups had their opening party at the end of July! Featured bands were Ex-Whites, Envelope and Scrawl.
Priceless footage of two of Columbus' finest Envelope & DJ Detox playing a High School graduation party.
At some point, Envelope tells the kids that not going to college will lead them to "the misdemeanor of the month club". He also lies to them and tells them that the Black Eyed Peas are taking him on tour after leading the young people in "Fuck the Police" chants.
Shot by Pelham Johnston, Adrian Stucker
Envelope will be be involved with a ceremony of a different age bracket as he performs at the Ace of Cups Grand Opening Saturday. Ex-Whites and Columbus rock legends Scrawl are also on the bill.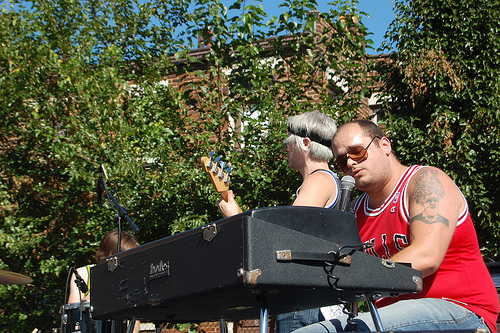 MP3: End of the Night
Nick Tolford and Company are like Columbus's version of The Commitments. A bunch of young, (mostly) white people bringing rockified soul music to the people. Except Tolford & Co. write their own tunes that rival stuff sung by mostly dead Motown guys. This Saturday at Carabar the band will release their much anticipated debut, Extraordinary Love. Tolford was kind enough to give me a little window into his world — a world of Ray Charles, The Misfits, Booker T, MF Gnar and "Bed Intruder."
Back when you were playing in the Slide Machine, did you always have the idea for this band in the back of your head? Did you think you could pull it off?
I don't know if I thought I could "pull it off," but I always did solo stuff on the side of whatever band I was in at the time. I feel like the ball really got rolling once I got a band together and got more than just my input on the songs.
Were you surprised when friends and even strangers started rallying around you and even asking if they could join your band?
I was definitely surprised at the reaction I got from the demo songs. I wasn't really expecting people to take notice at all.
Did you grow up listening to guys like Sam Cooke and Otis Redding?
My father always used to play old Motown and Stax stuff and I have always been most interested in vocal melody in songs. People like Sam Cooke and Ray Charles, among many others, really know how it works. Soul isn't all I listened to though. When I was 11 I heard the Misfits for the first time and that had a pretty huge influence on me. During my junior high and high school years, skateboarding and everything on Fat Wreck Chords carried me through.
Continue reading →
Comments Off on MP3, Interview: Nick Tolford & Co.
Posted in Interviews, MP3
Tagged Barry and the Eastenders, Bed Intruder, Booker T, Ex-whites, Extraordinary Love, Holiday Mary, MF Gnar, Motown, Nick Tolford and Company, Ray Charles, Sam Cooke, Stax, The Compressions, The Misfits, Way Yes