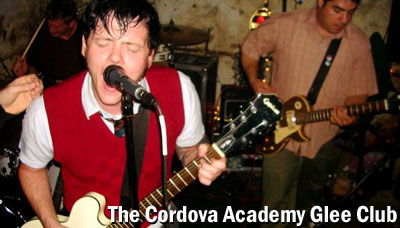 The Donewaiting audience probably isn't familiar with the bands set to play at Skully's on Saturday night – Philo, Bullet Jones, For the Drive, The Cordova Academy Glee Club, Pets or Meat. Part of the reason is because members of those bands don't bombard the message board with show announcements save for Bullet Jones. Another big reason is because of the way these bands sound. Unabashedly unafraid to admit the influence of modern rock bands like Stone Temple Pilots, Muse, The Deftones, Saosin, Foo Fighters, and all the other bands that can be heard on both CD101 AND The Blitz, most of these bands represent Columbus's best chance to get on the major label map. While I haven't had the opportunity to listen to full lengths by any of the bands on the bill (hey guys, feel free to send me promo copies of your CDs if you'd like – hint, hint), the stuff I've heard on MySpace indicates bands that are just a record deal away from selling lots and lots of records to college-aged students.
The odd band out on the bill (because they aren't a Columbus band) is The Cordova Academy Glee Club. Comprised of members of the early '90s DIY pop-punk Philly band Weston, Cordova (for short) jumped on this bill after striking up a friendship with Philo this summer. My friend Jason, whose music tastes I respect, turned me onto these guys earlier this week and I've spent a lot of time listening to the band's EP, Lie Until it Becomes the Truth. Described by RockErie.com as a mix of the Smashing Pumpkins, Echo and the Bunnymen, Pixies and U2, the band is currently sitting on a full length release scheduled to come out in early 2008.
I caught up with singer James Alex earlier today and you can read the interview following the jump.