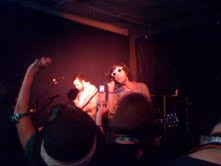 So being a SXSW first-timer, my ambitions were high as I strolled into downtown Austin yesterday morning. (And when I say high, I mean I decided to ignore the fact that it was St. Patty's day and wander into as many free shows as possible.) I actually caught two of the four acts I had planned for the day and ended up seeing way more than I anticipated.
I started the day at Emo's, where I caught Summer Cats (who were a throwback to some angsty teen days) and Tobacco (who are not meant to be seen in the middle of a day in a tent.) I next checked out Joe Pug at the Paste showcase, where he charmed the pants off the crowd with his endearing personality and honest music. At the Creekside Lounge patio, I luckily caught Casiokids who gave the most upbeat and energetic show of the day, complete with odd hand gestures in sync with their beats. Inside, Ezra Furman and the Harpoons (pictured above) were my surprise new favorite of the day with a sound comprised of equal parts Tom Petty and serious indie rock.
Everyone Was In The French Resistance… Now was a bit of a let down so I took off in search of food. After a bit of a break, I saw The Howlies and it was then and there that I caved and bought a wristband for easier access to showcases. Good thing, too, because after catching a lively set by Skybox, I waited for 35 minutes and was able to see Fanfarlo at the outdoor Paste party. Though at this point it was 11pm, I didn't give into exhaustion and kept wandering in time to come across Banda de Touristas, who did some serious rocking out. My night ended quite perfectly with an amazing set by The Morning Benders, despite a delay in sound issues and a broken guitar string on the first song. All in all, I'm pleased with day one and just hope I can keep this energy up for the next three days!