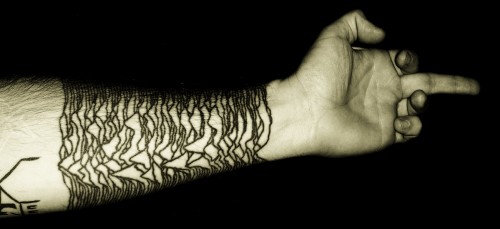 DJ Detox of Get Right,and Channing/Carley/Raina's house party fame created a mix of the Manchester Post-Punk group's music  for today's Joy Divisions Art Show .
The art show is  in the  front  the Columbus Metropolitian today from 2-7:30 pm. (Downtown)
Joy Divisions curated by Eva Ball is inspired by pretty much any angle you can take on Joy Division. From Nazi sex slave camps to song interptations to abstracted word associations.
(Ask yourself, Whats a Joy Division? The 2010 pick-up line) 
It's a pretty thought provoking vechile.
I have an essay in the catalog. (I'm in a book, yo!) I deal with everything from Sex with Robots to public death.  (WTF that has do with Joy Division? It works.)
If you find me to be an idiot still come out because the  list of artists and writers that created work for this show and its catalog is pretty righteous. The lumininarys include but aren't limited to Art Forum's Mark Harris and  Ivy League  filmaker Mike Stickrod,(wudup sae)
Other artists and writers include Carmel Buckley, Hannah Barnes, Ryan Agnew, Sarah Bernat, Paul Simmons, Dan Olsen, Tina Matthews, Ian Ruffino, Laura Bratigan, Grant LaValley, Chad Shepherd, Nick Crane, Erica Bailey, Eva Ball, Josh Erb, Jen Burton,Marshall Barnes, and maybe Bangwash.
I know boy boy you are like, wow. But hold up, and say whoa because there will be a meal served at 630 pm.
Free food.(Krogers is in the building)
The homie Detox is dejaying the after party at Skylab..
The JD mix up here contains live, demo, edited and regular versions of Joy Divisions jawns blended and arranged in cohesive manner without having to get all fidget house or having to pay44.99 for those reissues.
(Next week I will post the tracklisting and maybe some analysis. It's interesting to see what dejays pick up on)
 24 Party People pillz.
Also at the Skylab will be CDR-o-gee Tommy Jay, Anna Ranger,  Ginger Fetus and the dubbed out JD coverband, Jam Division . 
There is a 5 dollar cover for the afterparty that will go to show costs, and the local homeless shelter.