Tag Archives:
Nelsonville Music Festival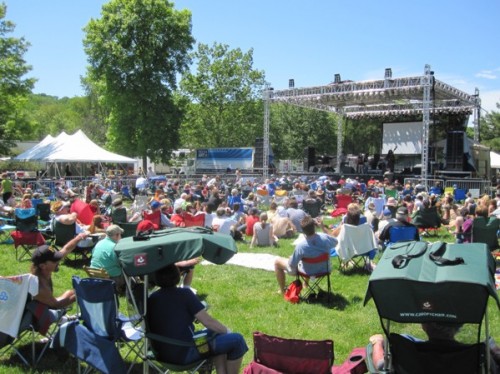 We're all pretty excited for the weekend of music and fun down in Nelsonville, which is now only hours from kickoff. There's a lot to see and hear, so as promised, I'm gonna layout what I think are going to be highlights for me. You know what they say about the best laid plans though – there's going to be friends to see, beer, naps, etc. and performances will most certainly be missed. You don't have to listen to me – you can see a list of artists, complete with descriptions and links here. Picking from this line-up is tough, but my path, roughly in order, will look something like this:
Friday- I'm excited to see Justin Townes Earle (one of two son-of-a-legend sets this weekend). He was supposed to play a gig in Columbus a while back, but a day or so before the show, his tour was cancelled do to some rockstar issues. I'm excited to see George Jones not so much because I have a lot of personal history with the guy, but more because he IS history. You can't pass up a chance to see one of the greats. From the main stage area, I'll swing over to the Porch Stage to see a Columbus double header of Nick Tolford followed by Mount Carmel.
Saturday- This is going to be pretty much a main stage day, but there are some real gems all over the Festival. I'm going to start with the haunting Baby Dee, and from there go to the No-Fi Cabin, which is one of the real treats of the Fest. There's zero amplification, no stage, and nothing much more intimate in live performance. Lovely Eve Searls will enchant with her quirky folk ukulele, followed by close associate and Black Swans front man Jerry DeCicca. This guy will whisper-croon some dark and smoky tales, while evoking a chuckle or two along the way. Ned Oldham plays after them, and the cabin seems a perfect venue. Continue reading →