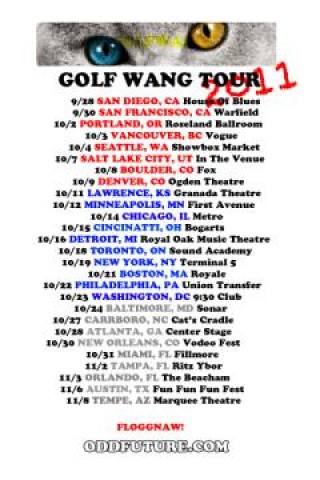 Odd Future is touring the North America this fall. The GolfWang tour is ALL-AGES and features no opening acts. There will be an opening set by OFWGKTA's DJ Syd the Kyd. But other than that…no random dudes who know the promoter to drain away the energy.
Odd Future's Tyler the Creator has been nominated for a 2 VMA's. You can vote for Tyler here and here.
If you want to make yourself more excited about this tour then peep Pitchfork's and OkayPlayer's reviews of MellowHype's Blackenedwhite.
Fan on-sale Wed (8/3) + general on-sale Fri (8/5)/ Sat (8/6) for show tickets.
It appears that if you live in Columbus, Ohio and you want to see duh WolfGang then you will have to head to Cincinnati or the D. If you go to the Show At Bogarts in the Nati then check out the mural my friends and I did a few year ago on the side of the venue.
After the jump a watch a video of "Sandwitches" live in Los Angeles that Lance Bangs shot while compiling footage for Odd Future's Adult Swim Pilot..