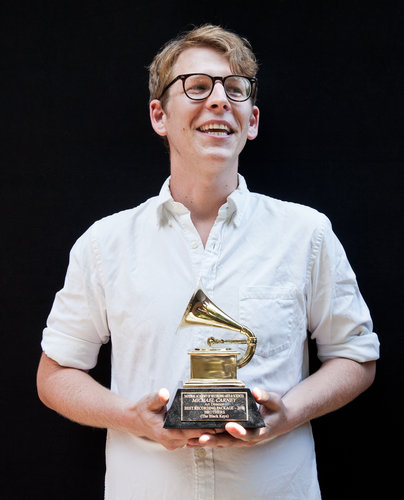 Readers of DW are no stranger to the Black Keys art director Michael Carney.
The New York Times caught up with one of sites' favorite Grammy Winners, and discussed the affects of Smart Phones, and I-Tunes on album cover design in a declining market.
Except from New York Times Feature The Incredible, Inevitable Shrinking Album Cover
WHEN the album designer Michael Carney submitted his proposed cover for the Black Keys' album "Brothers" last year, he and the band were a little anxious. Seeking a change from their previous, illustration-driven packaging, which he'd also designed, Mr. Carney devised the simplest of covers: two sentences — "This is an album by the Black Keys. The name of this album is Brothers" — set against a black background

"We thought, 'Are we allowed to do this?' " Mr. Carney recalled of the bare-bones cover, which he also felt reflected a new boldness in the Black Keys' music. Although its label, Nonesuch, was initially perplexed, Mr. Carney's fears were ultimately put to rest. "The marketing people said, 'This is our dream!' " Mr. Carney said, and the artwork was a go.
Read the New York Times Article here or Pick Up a New York Times tomorrow (Sunday).
Michael Carney will return to Columbus for the DAYMON DAY PARADE.
Mike will dejay the parade's afterparty along with Sinkane of Yeasayer at Carabar September 17th, here in Columbus, Ohio.